RED CARPET NA GOLDEN GLOBES 2020 – MÓDNE RÓBY CELEBRÍT, KTORÉ POHORELI A NEOSLNILI
Začína sa obdobie slávnostného udeľovania cien v oblasti kultúry za filmy, seriály, hudbu a hneď prvým sa v tomto roku stalo prestížne podujatie Golden Globes.
5.januára 2020 sa konal slávnostný galavečer, odovzdávanie filmových a seriálových ocenení Zlaté Glóbusy 2020. Zaostrené na módu z Red Carpet Golden Globes hereckých a showbizových hviezd mojím okom, musím zhodnotiť, že veru nebolo veľmi z čoho vyberať.
Pozrime sa, aké róby hviezdy predviedli, v čom ohúrili a v čom podľa mňa neoslnili, ba predviedli módnu pohromu. To druhé bude skôr predmetnou rovinou tejto časti článku o móde z Golden Globes.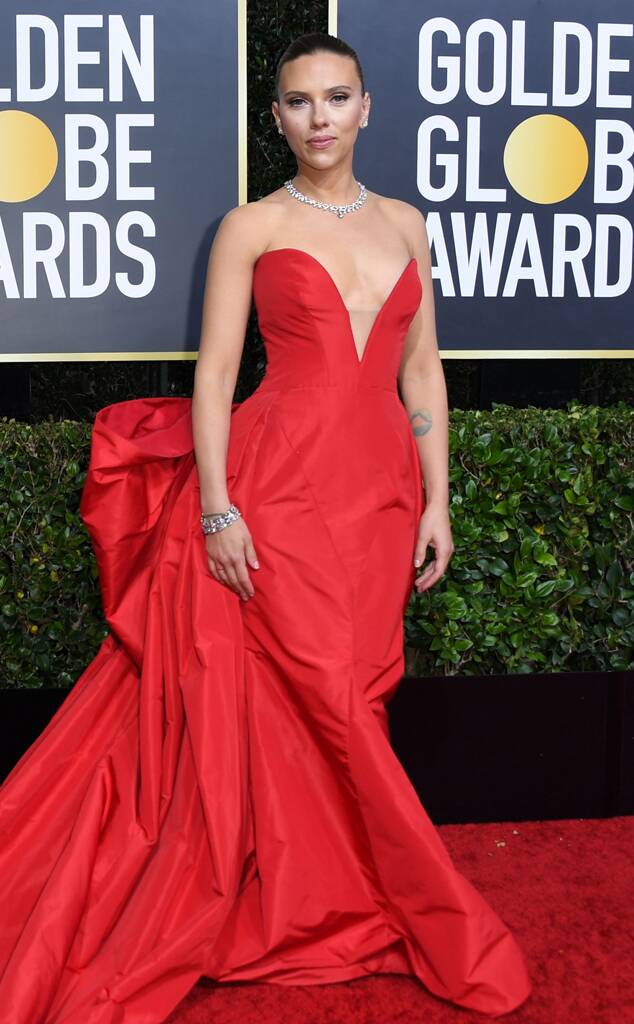 Obvykle bulvárne znejúce hodnotenia nie sú doménou tohto blogu. Zameriavam sa na podrobné rozobratie módnych kolekcií z prehliadkových mól zo svetových týždňov módy. Udalosť Golden Globes 2020 ma však ako prvá Red Carpet módna nádielka zaujala, priniesla totiž veľa nudy a rozporuplných pocitov z rób od svetových dizajnérov, ktoré sa hviezdy snažili vyniesť na červenom koberci. Táto udalosť býva ostro sledovaná zrakmi svetových kritikov, pričom na hviezdach pracujú najznámejší a najlepší hollywoodski stylisti.
Počas 77. ročníka Golden Globes musím usúdiť, že sa konalo len pramálo "wow" efektov z predvedených módnych outfitov celebrít, z ktorých sme, ako sa očakávalo, mali padnúť do kolien.
MÓDNE PREDSTAVENIE PLNÉ OMYLOV A PREŠĽAPOV
Z väčšinového repertoáru výberu rób filmových hviezd, ktorý bol ponúknutý na tomto galavečere, si buď hviezdy zvolili modely:
Ako na stužkovú slávnosť, v prípade herečky MICHELLE WILLIAMS odetej v šatách LOUIS VUITTON,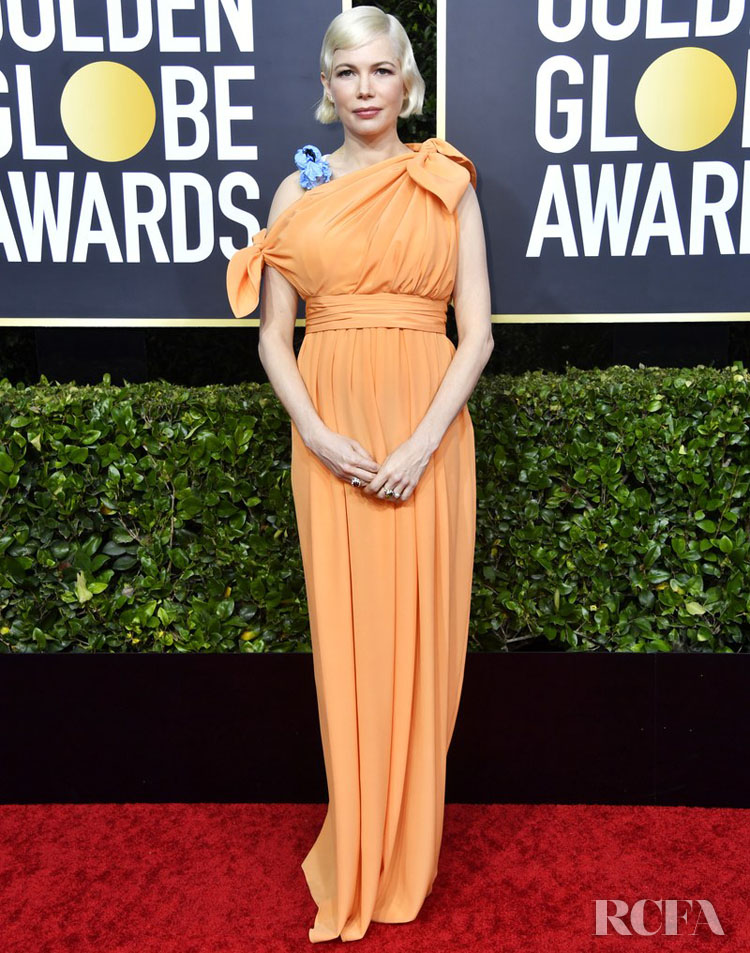 alebo herečky SANDRA BULLOCK. Sandra pripomínala aj vďaka zlatým subtílnym remienkovým sandálom súťažnú tanečnicu zo spoločenských tancov. Zvolená farba navyše nie je farbou, ktorá by krásnej brunetke zimného typu pristala. Neforemný dekolt utláčajúci prsia ešte viac podčiarkuje nevýrazný bandážový strih, ku ktorému jednoducho prilieha volánová sukňová časť, pričom nelichotí nie práve vypracovaným ramenám nositeliek. Navyše asymetrická volánová sukňa pocitovo evokuje flamengo tanečný party večierok kdesi pri mori. Výsledný efekt je tak trochu smutná dovolenková tanečnica.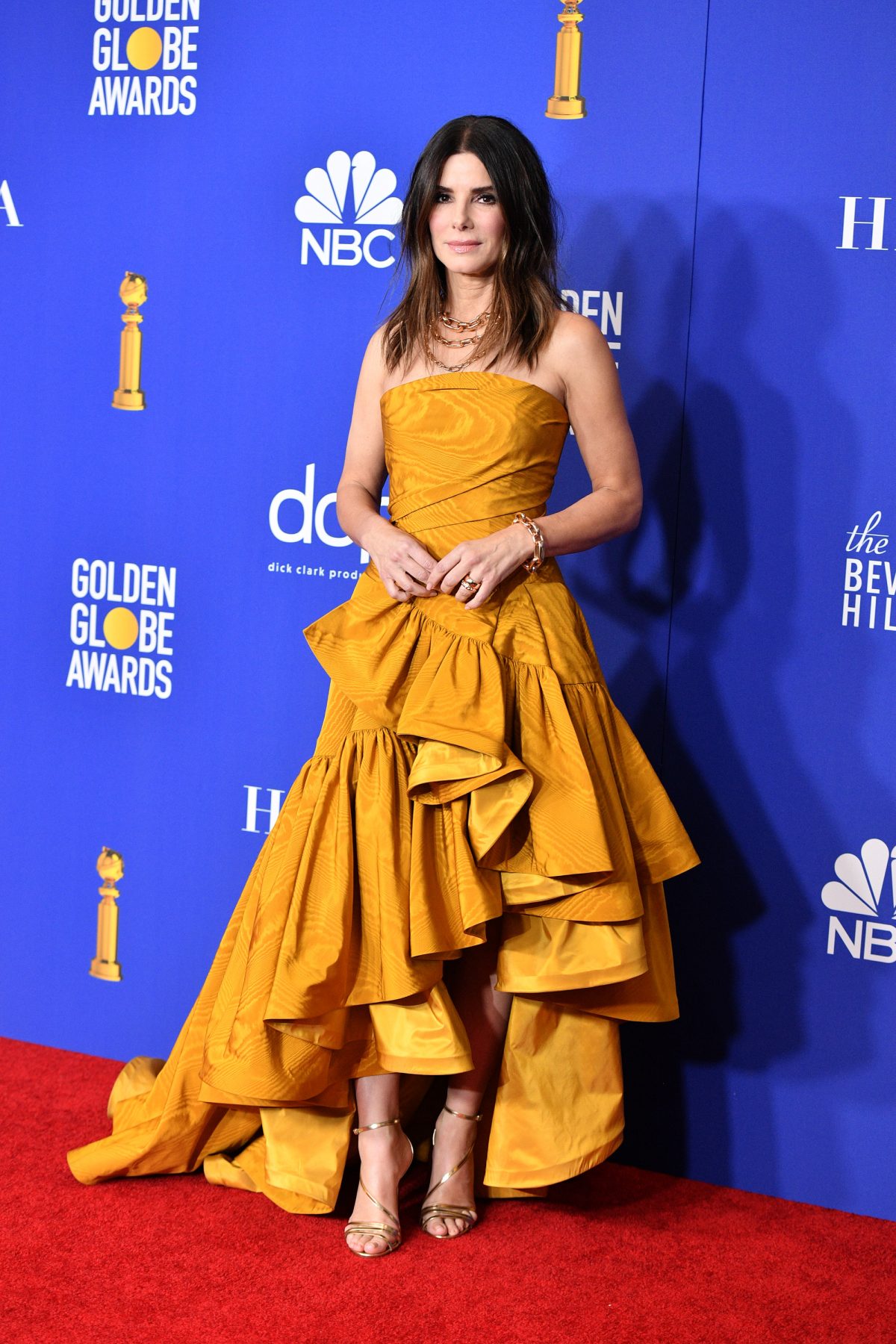 Ďalším módnym štýlom, ktorý sa zjavil na tohtoročnom galavečere, bol tzv. mama look. Hviezdy ako GILLIAN ANDERSON sa predstavili v šatách v roli mama na stužkovej, pričom si herečka zabudla vziať navyše aj podprsenku.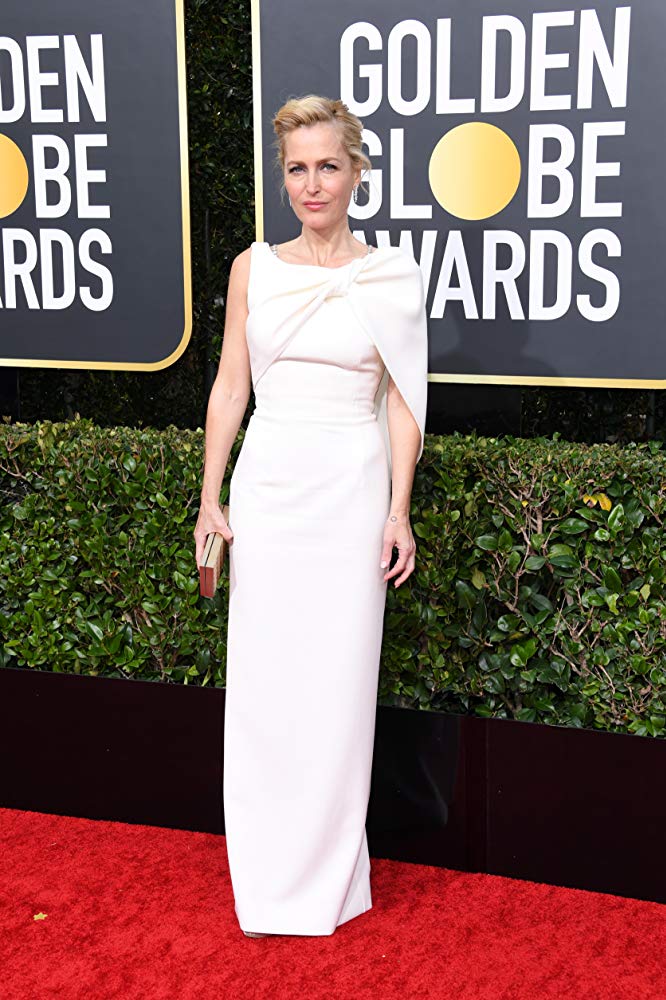 Ako letnú prechádzku, promenádu po prímorskej lokalite, prišla odetá speváčka TAYLOR SWIFT v šatách od talianskej módnej značky ETRO. Akosi si neviem vyhnať z hlavy pocit, že tento kvetinový motív mi nemá pripomínať záves alebo poťah. Až príliš symetrické, až príliš ťažkopádne, príliš….Jednoducho príliš veľa toho istého, pôsobiaceho ťažobným fádnym dojmom. Nevýrazný účes k tomuto "veľkému telu" šiat navyše nedodal na celkovej vyváženosti v snahe o gráciu, esenciu pôvabu a honosný look.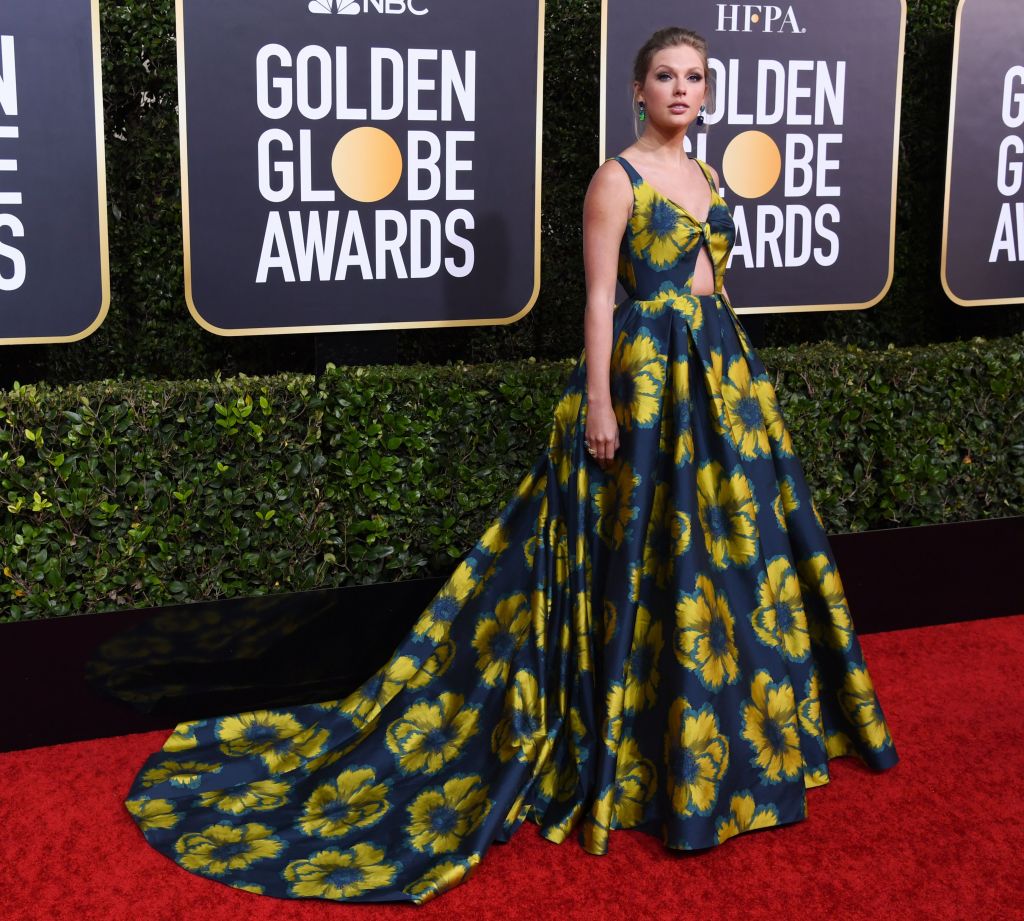 Foto – David Fisher / Shutterstock , Taylor Swift, 5. január 2020Ďalším módnym štýlom, ktorým prekvapivo ohúrili hviezdy na takomto type slávnostného večera bol štýl ala letná party. Svoje o tom vie hviezda YARA SHAHIDI, i keď tento model šiat zvolila na after party, tak s prižmúrením oka povedzme že "udiž móda".
Keď sa už letné, záhradné a party šaty minuli, prišli 70. roky, deti kukurice v podaní herečky GWYNETH PALTROW , ktorá zvolila model z dielne FENDI . Na fotkách mňa osobne herečka neoslnila, outfit mi prišiel priveľmi nahý na takúto akciu a príliš šifónkový, i keď sa jej vcelku hodí. Bez tých šperkov a náhrdelníka pod šatami by bol výsledný efekt viac fádny a prvoplánovo nahý, šperky dodali modelu na túto akciu jemne glam efekt.
Videá z tejto udalosti už majú väčšiu výpovednú hodnotu, fotografia môže vždy skresľovať a pokiaľ sme tam neboli, alebo to nevideli, môžeme si vytvoriť iba názor, aký poskytuje daná fotodokumentácia. Tá mi však dáva jediný výsledný pocitový dojem, že polonahý človek obalený v záclone sa už nosí aj na takéto akcie.
ODKAZ Z MINULOSTI NA ŠATÁCH Z BUDÚCNOSTI
Vo vintage alobale prišla obalená postavička mixnutá so scify kozmonautkou LUCY BOYNTON prinášajúca tému minulé odkazy z budúcnosti , ktorá k šatám prispôsobila aj dokonalý make-up a styling. Trošku futuristicky zaobalený koment s jedným pozitívom.
Oceňujem tento look od LOUIS VUITTON za jeho kreativitu, vybočenie z bežných slušivých rób a snahu o inakosť, len sa nemôžem nejako zbaviť očakávania, aký odkaz nám prináša britsko-americká herečka z mimozemskej lode. Ja stále čakám a som pripravená . 🙂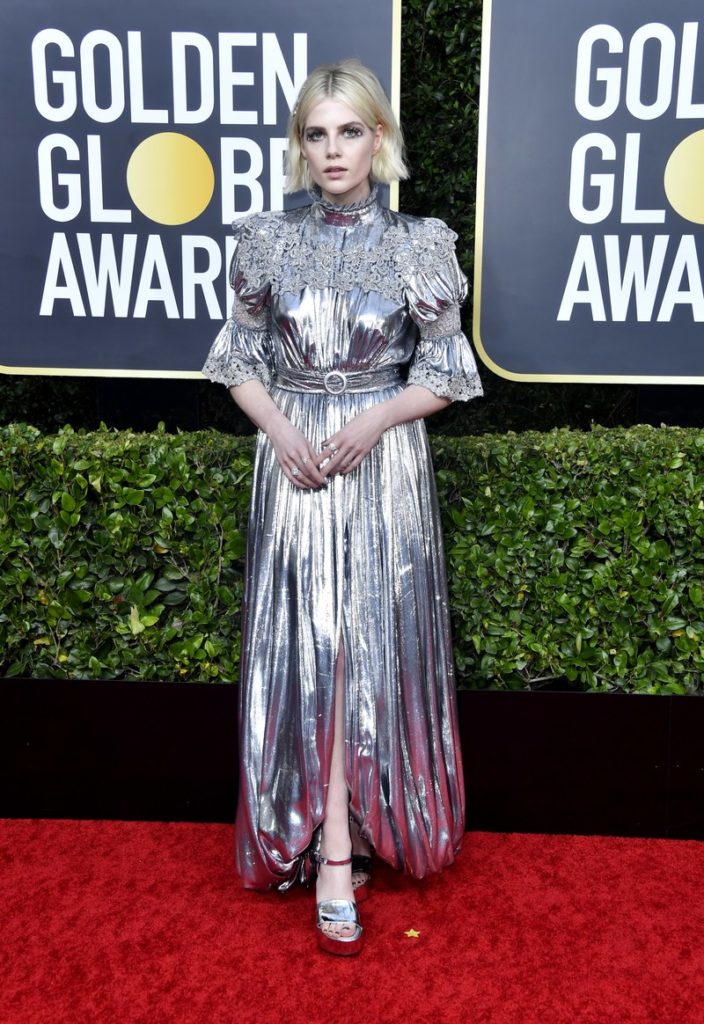 NAJVAČŠIA MÓDNA POHROMA RED CARPET GOLDEN GLOBES 2020 – VIANOČNÁ SALÓNKA JENNIFER LOPEZ
Módna pohroma od hlavy po päty, ktorá splnila účel a vyrazila dych, bola účesom, make-upom aj šatami od VALENTINO predvedená v hviezdnom podaní vianočnej salónky JENNIFER LOPEZ.
Hviezda Jenn si z toho isto ťažkú hlavu nerobí, aj zlá reklama je reklama, preberali ju predsa všetky médiá. No, nie veľmi lichotivo, tak , ako som usúdila ja sama. Ostatne, Jennifer býva hviezdou Red Carpet aj týždňov módy často, hosťkou Milan Fashion Weeku a rúca internety svojím catwalko m na Versace prehliadke a v iných šatách, no tentokrát to milej Jenn jednoducho nevyšlo. I to sa stáva, hoci na vás pracuje team svetových stylistov a vizážistov. Ako sa hovorí, "I mistr tesař se raz utne"…. hups.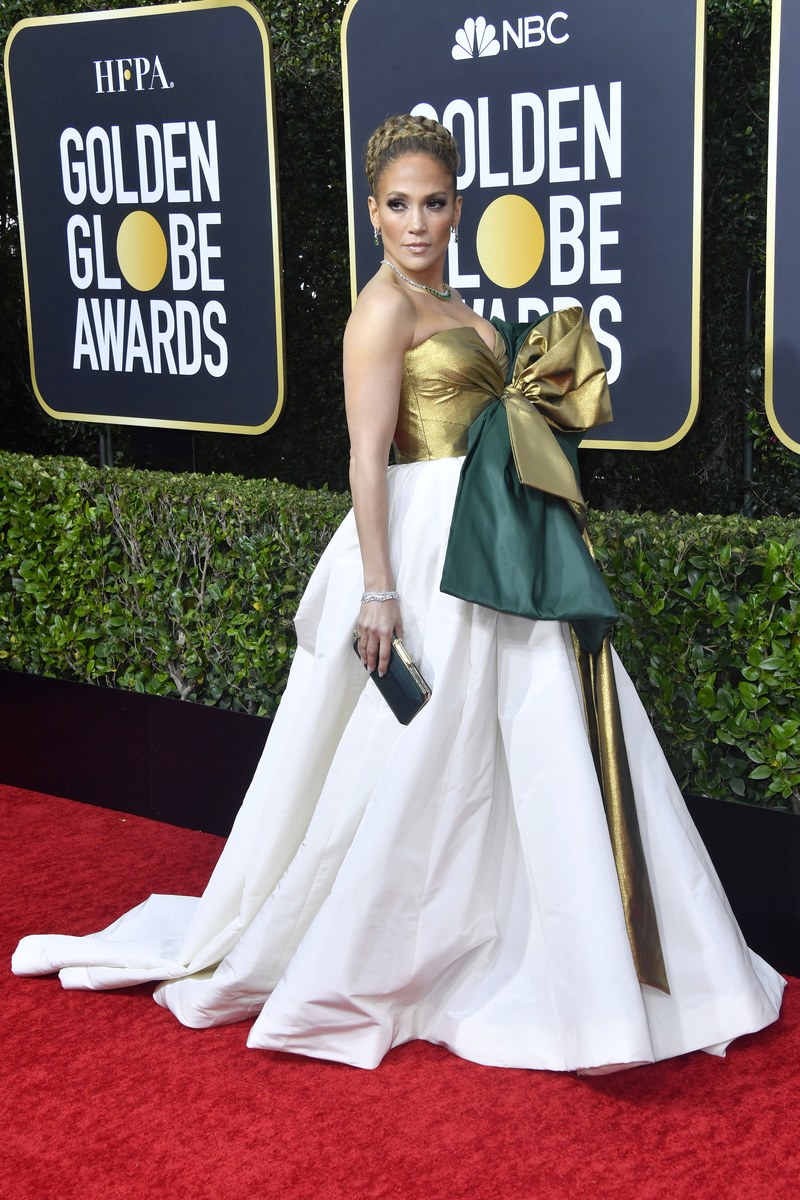 Obria mašľa asi chcela mať iný skrytý význam, no jediné indície, ktoré mi dáva sú sviatočné, Vianoceeeeeeeeeeeee ! … a rozbaľovanie darčekov. A tie už boli. Prekvapenie sa nekoná.
Účes spevácka a herecká hviezda tentokrát tiež netrafila, pripomína niečo na štýl krétskych letných slávností a tancovačiek. Grécky duch sa v ňom akosi nezaprie. Výraznosť až obrovsky božsky sa týčiaca do diaľky, do výšin, ako azda celý tento "bold" , maximálne preexponovaný heroický look vzýva k modlitbe k bohyni Afrodite.
Zo šiat nepekne vytŕča speváčke vzadu chrbát. Ak keď je Jenn preslávená najmä kvôli jej fitnes vyšportovanej postave, zdravému štýlu a cvičeniu s váhami. Malá figúra nie zrovna eklektického typu s jej krivkami pri nabratí väčších objemov pôsobí fyzicky menším dojmom, niečo ako bojovníčka Xena. A to zrejme stylista nechcel týmto modelom docieliť. Tento model takýmto postavám ešte viac dodáva objemnejší look a zakrpatenejší výraz. Jennifer zožala vlnu kritiky aj zo sveta. Za mňa pôsobila v tomto modeli ako naprataná salónka s obrovskou mašľovou nádielkou na prednej časti, ktorá tam opticky pôsobila ťaživým dojmom. Už len rozbaliť a čakať niečo decentnejšie pod tým.
O make-upe sa tiež nedá vysloviť veľa ovácií, azda len do budúcna vymeniť ake-up artistu. Tmavé hnedé líčenie s nude nevýraznými perami rozpíjajúcimi sa pod príliš "opáleným" vzhľadom nepridalo kráske na sviežosti. Tento opálený look dámy zostaruje, pôsobí ťaživo. Ťažké líčenie k tomu sa pre dámy vo veku vôbec nehodí, mnohé pôsobia starším a strhaným dojmom, umelé mihalnice s tmavými tieňmi úplne zakryli tvar pekných očí Jenn, z ktorých sa stali čierne machule. Tieň na spodnom viečku vytvárajúci umelú ostrú linku spolu s nezvládnutým až amatérsky upraveným obočím tomuto make-up looku veru nepridali na kvalite.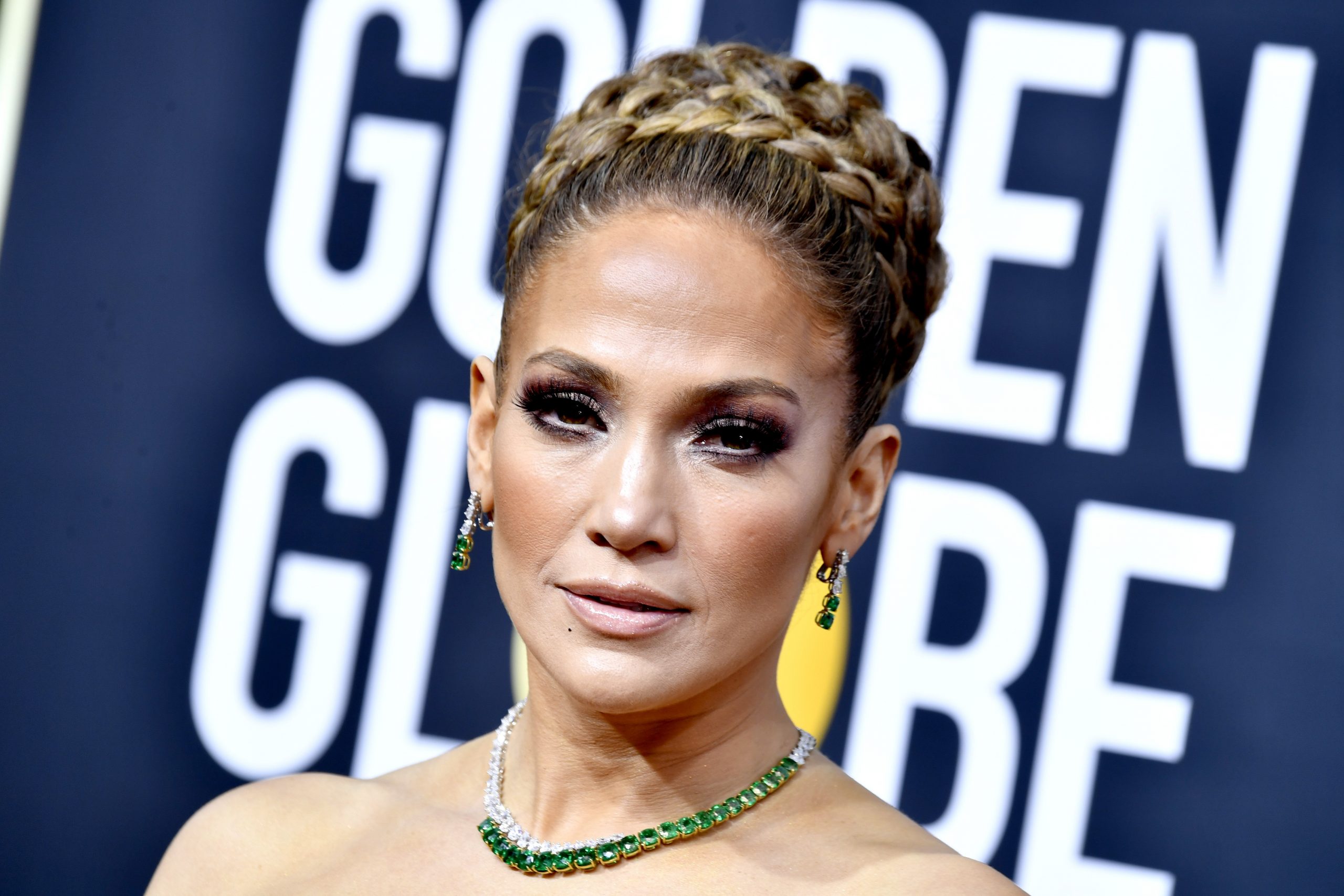 Čo malo azda vyniknúť a ostalo zabudnuté vďaka maxi efektu všetkého spomínaného, sú honosné šperky v závratnej sume, ktoré dopĺňali tento look.
SMUTNÉ DIEVČA JENN ANISTON v DIOR
Herečka Jennifer Aniston inak veľakrát aj vyzývavá, sa tentokrát predstavilna filmovom večeri v smútočnej róbe značky DIOR. Zvolila však pekný, slušivý model. No v tejto matnej farbe a látke z nej urobil smutné, i keď milé dievča večera. Jennifer taktiež nijako zvlášť neoslnila, bola pekná ako množstvo ďalších hviezd, u ktorých sa však wow efekt z predvedených rób nekonal.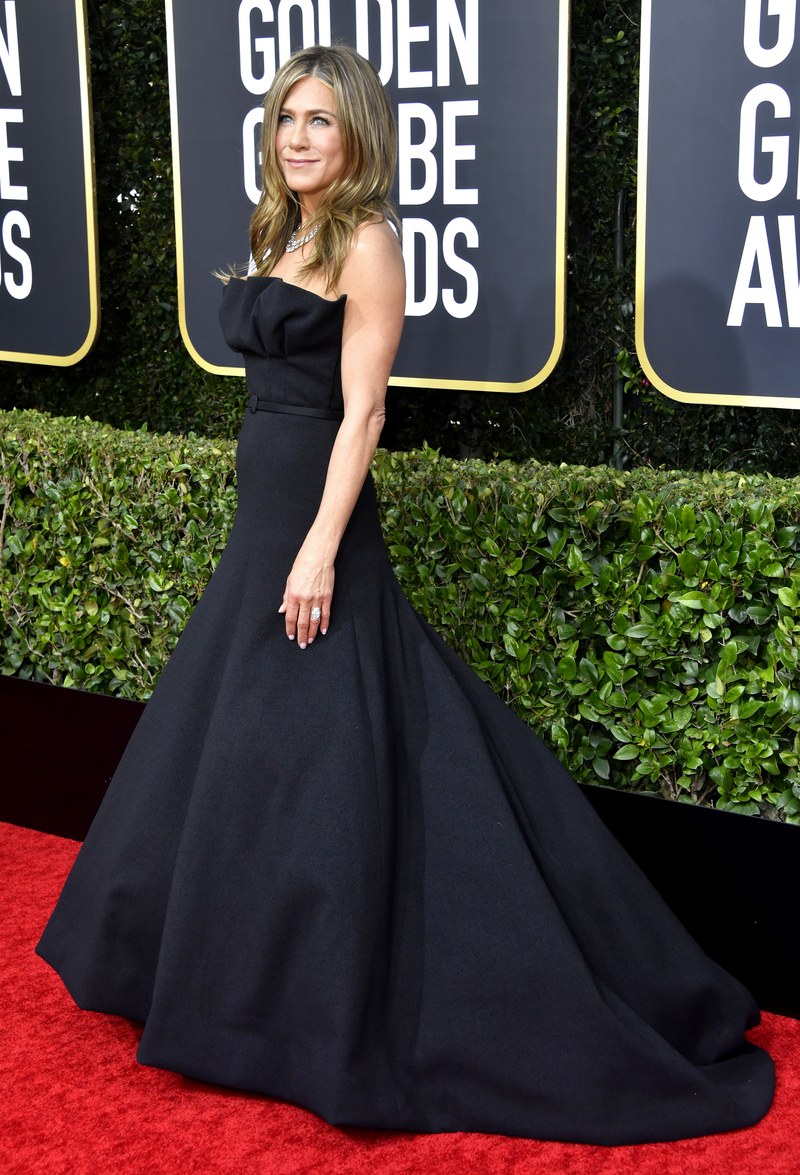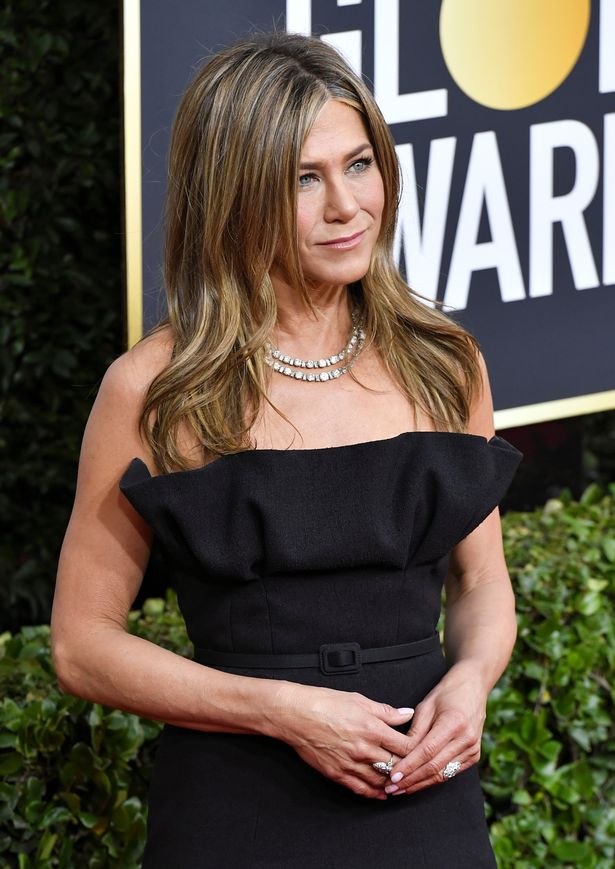 ABSOLÚTNA VÍŤAZKA SMUTNEJ NUDY – MICHELLE PFEIFFER
Čo o tomto looku povedať, azda len, nepomýlila si Michelle akciu? Tu sa ťažko hľadajú akékoľvek slová…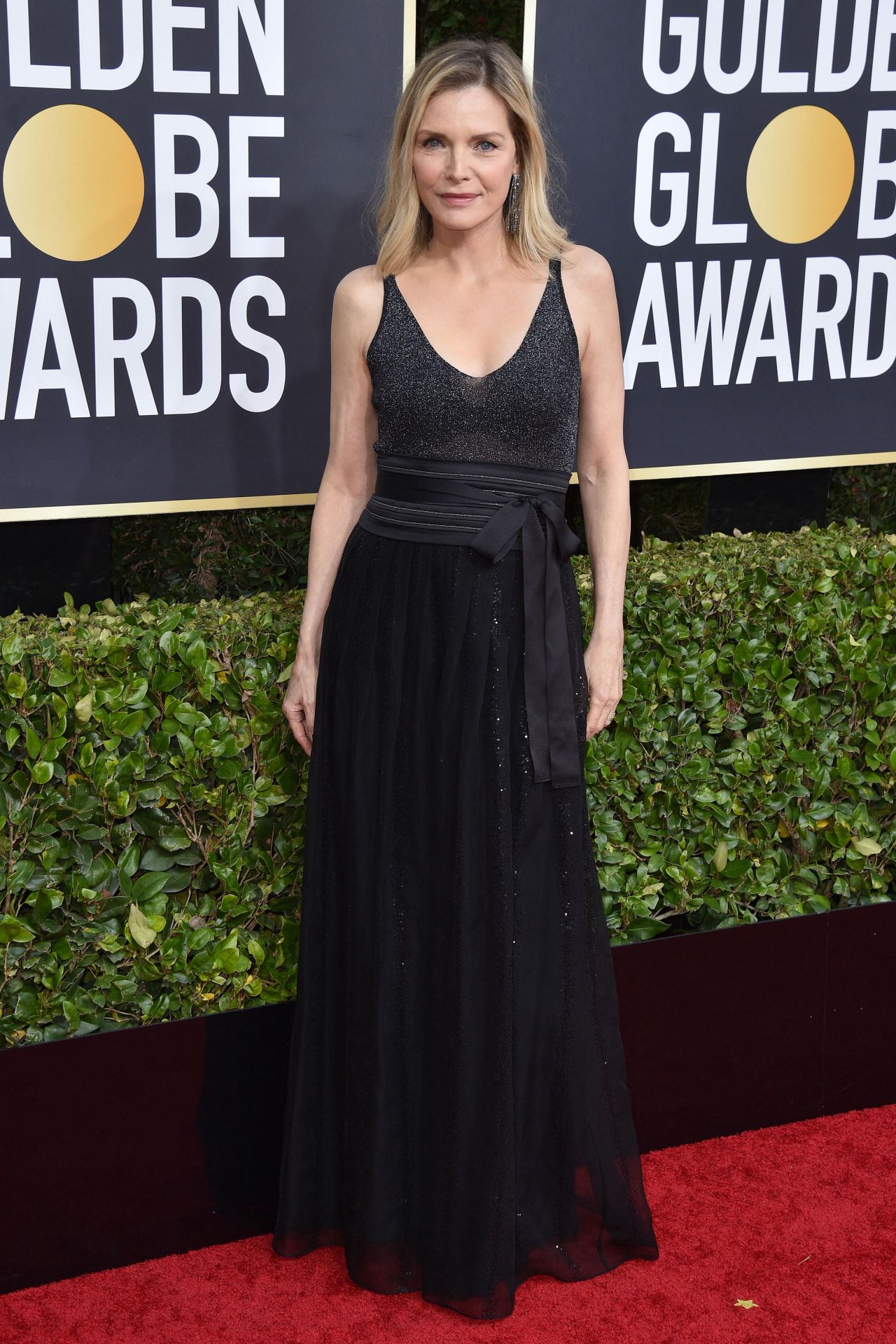 SEXI-VULGÁRNY LOOK ala SCARLETT JOHANSSON
Niektoré hviezdy prišli odeté v róbach v očakávaní vyvolať jemné sexi vábenie, ako napríklad herečka SCARLETT JOHANSSON v modeli VERA WANG, no s prsiami na vychádzke a od seba na štýl Mariah Carey. Len v menšom merítku. No i to pôsobilo vo výsledku z mnohých uhlov ako mierne sexi/vulgárny look. Nemyslím si, že Scarlett je vhodnou adeptkou do tohto modelu a strihu šiat, i keď šaty sú krásne. Nie príliš jej na typ postavy sadnú, ako ju vychválili niektorí iní obdivovatelia. Scarlett je nízka a nižšie dámy v nadýchanej "bold" róbe, príliš mašľovitej, príliš volánovej, v akejsi "nadýchanej duchne" môžu pôsobiť strateno, groteskne, utopene, akoby ich zjedol zákon gravitácie. Tu sa však viac dralo do popredia rozutekané poprsie, ktoré zaručene priťahovalo zraky mnohých prítomných.
Celkový look, ktorý mal byť famózny mi ruší aj výraz tváre, ktorý je azda na každej fotografii rovnaký, hovoriaci "Som tu a som pekelne sexi , tak si s tým nejako poraďte ! " … , s otvorenými ústami a nepodareným ulízaným účesom, s mini drdolom a kútmi na spánkoch…. Niečo ako účes do sprchy.
Nie, Scarlett, žial ani tu sa "wow efekt" ako u Lady Gaga, ktorá to naopak zvládla, podľa môjho pocitu nekonal.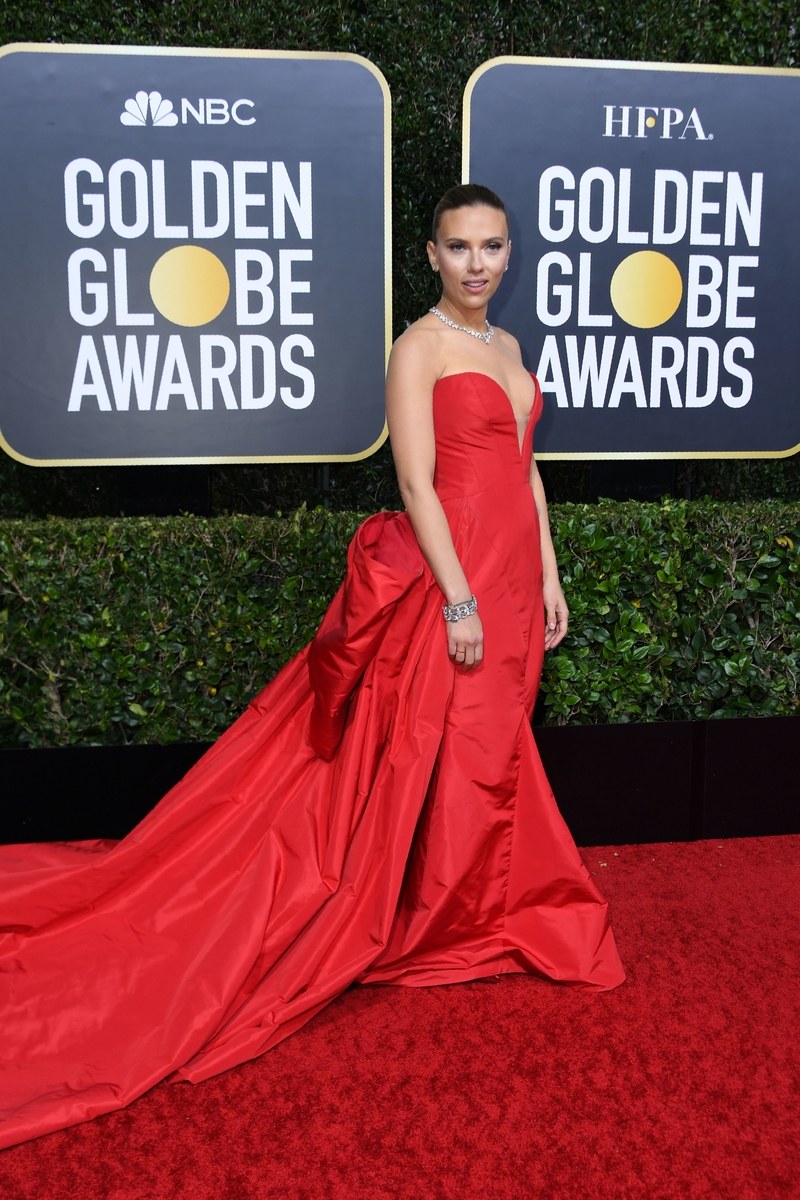 Neforemný dekolt, ktorý Scarlett nesedel, mal isto za následok, že nielen ja, ale azda všetci prítomní očakávali, či prsia ustoja svoju bojovú pozíciu na patričných miestach, alebo sa vyberú aj oni pozrieť si naživo odovzdávanie Golden Globes. Strih jednoducho nie vhodný pre daný typ postavy, Scarlet nesadol.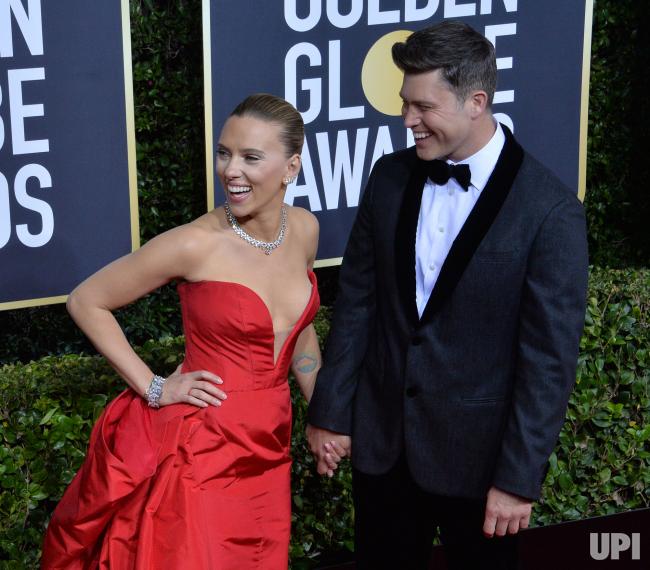 SALMA HAYEK A UMELÉ ZVAČŠENÉ PREDNOSTI NAPRATANÉ V GUCCI MODELI
Prejdime od jemného sexi vulgárneho vábenia na tvrdší hard-core fashion štýl v podaní herečky Salma Hayek s nepochybne skvelou figúrou, no obrým zväčšeným dekoltom "ala prdelka" za pomoci plastických úprav za všetky drobné. SALMA HAYEK a jej obrie poprsie ako zadok vyrážajúce zrak sa predvidla v GUCCI modro-bielom modeli.
Neviem, čo ma malo zraky divákov zaujať viac, či farba, strih, herečkyn šarm, ktorý však unikol niekam do neznáma. Kam mala smerovať pozornosť, azda na sexi look ? … Nič z toho sa mi tu nepodarilo zaznamenať a vyhodnotiť pozitívne. Prišlo iba rozmazané videnie z nepodareného pokusu vytrieť zrak a vyraziť dych všetkým prítomným maximálne možnou mierou a jednoducho v prvom pláne.
Herečka ROONEY MARA predviedla smutno vyzerajúce ovisnuté ušká mladej dámy pod čipkovaným čudesným topom s ešte čudesnejším účesom ala Divá Bára. Už len si v zvolenom modeli zatancovať v lese tanec lesných víl.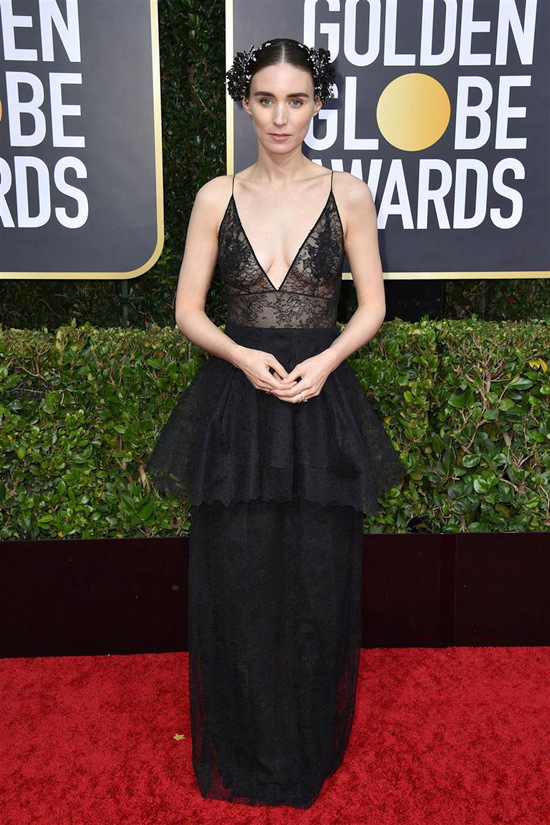 "Očarujúci detský dekolt" naopak skryla v bledomodrých šatách s hlbokým "v" výstrihom až po pupok herečka BEL POWLEY, i keď sa jej v nich rozžiarili bledomodré oči a vo výsledku pôsobila krásne. Rovnako zaujímavý look aj strih tejto brunetke svedčil. Na niekoho však môže pôsobiť rušivo práve príliš hlboký dekolt, no v móde sme zvyknutí na rôzne strihové modelácie.
VLAŽNÉ KRÁSKY – BLONĎAVÉ VLÁSKY
Charlize Theron, kráska z južnej Afriky, ktorá strhla pozornosť modelingových agentúr a bola tiež Miss Juhoafrickej republiky, svoju nespornú krásu na tomto galavečere nechala skrytú.
Herečka veľmi neoslnila jednoduchou krásou v zelenom, ktorú zvolila v podobe asymetrických šiat od módneho domu DIOR, i keď bola vo výsledku vlažne pekná.
Podobne ako kolegyne NICOLE KIDMAN v elegantnom modeli VERSACE.
Nekomentujúc fakt, že Nicol a jej herecká kolegyňa RENÉE ZELLWEGER už akosi strácajú mimiku vďaka prílišným plastickým úpravám.
Celkom ťažko sa bolo pozerať na grotesknú tvár Renée a uveriť, že vyhrala ako herečka. Jej oslavná ďakovná reč pripomínala miestami kŕč , podobne ako jej pokus o úsmev. Tieto naleštené hollywoodske glam botoxové tváričky, vypnuté bez jedinej chybičky sú už všeobecne akosi out, avšak v tomto svete hollywoodskej neprirodzenosti, zrejme stále in. Príklad prirodzenej krásy a šarmu by si mali hviezdy vziať od starších kolegýň, napríklad herečiek Helen Mirren alebo Sophii Loren.
Pozitívum tohto elegantného modelu jednoduchých šiat z dielne ARMANI PRIVÉ je strih, ktorý Renée padol ako uliaty, farba, ktorá jej osobnostne typovo pristane. A bonusom sú vypracované ruky a postava, na ktorej herečka tvrdo zapracovala. Elegantná jednoduchá krása .
ŠOKUJÚCO-DRAMATICKÁ RÓBA MODERNÉHO BEZPOHLAVNÉHO SVETA
Šokujúco-dramatická róba moderného bezpohlavného sveta, Čierny Martin na Bielom Koni, sa niesla v podaní provokatéra BILLY PORTERA v modeli ALEX VINASH na vysokých kamienkových opätkoch a s kabeločkou. No nevyraziť tak aj do inej bežnej spoločnosti a neoslepiť okolie, by bol hriech. Maximálne liberálny svet však rozhodne výska.
Našli sa však aj skvostné a luxusné róby počas 77. ročníka galavečera Golden Globes 2020 a tých bolo zopár. Predviedli ich herečka CYNTHIA ERIVO a iné dámy, ale o tých sa už dočítate v ďalšom článku na pokračovanie o úžasných róbach z červeného koberca zo Zlatých Glóbusov.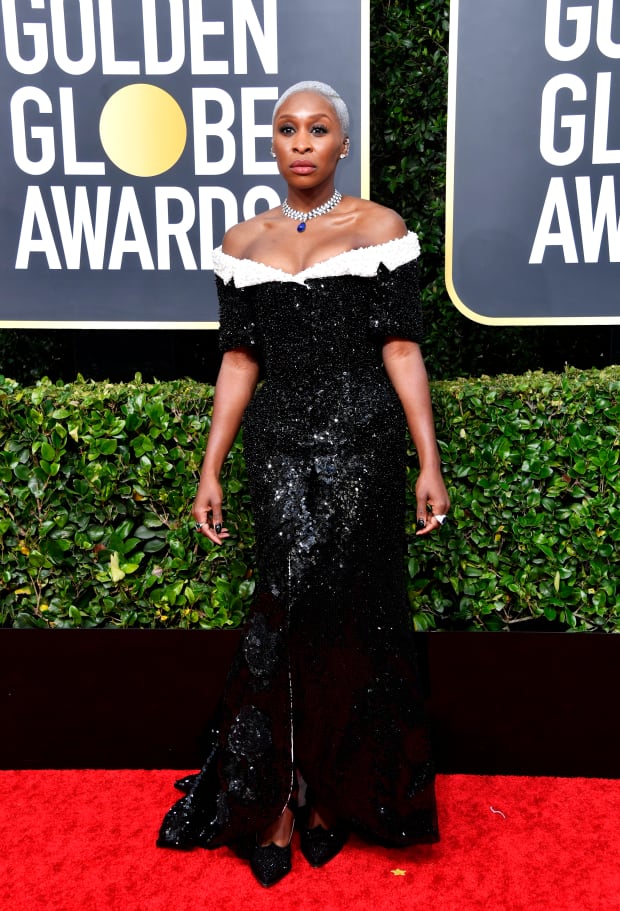 Zdroj fotografií: getty images, shutterstock
Pre viac fotografií a zaujímavostí o móde, aj videí z Milan Fashion Weeku – sledujte Facebook stránku blogu: Mya Mirell Fashionista, Instagram: mya_mirell .
Sledujte ma tiež na:
2 Instagramy: myamirell ,
mya_mirell
Facebook: Mya Mirell Fashionista,
Mya Mirell