Dolce and Gabbana – kolekcia Jeseň / Zima 2020 – 21, Milan Fashion Week, Móda Ženy, zimná sezóna
Talianska módna značka DOLCE and GABBANA sa počas Milan Fashion Weeku, vo svojej zimnej kolekcii 2020-21 zamerala na remeslo. Po problémoch, ktoré narobil nedávny obrovský škandál s Čínou (čítajte v dvoch článkoch v histórii na tomto blogu) a značne otriasol značkou v základoch, sa snaží zamerať na to najdôležitejšie a to je vytváranie kvalitnej a skvostnej módy. Zámer dizajnu Dolce and Gabbana zimnej kolekcie 2020 – 21 bol teda jasný, naplno sa odovzdať očarujúcej módnej tvorbe, ktorou bola značka roky povestná bez ďalších vedľajších vykoľajení a prešľapov.
Módnu show poňala značka tentokrát celkom netradične. Divákov prichádzajúcich na prehliadku počas zimnej sezóny Milan Fashion Weeku, Móda Ženy, vítali ľudia, ktorí vytvárali vzory, naparovali oblečenie a zašívali odevy. Časť kolekcie bola venovaná tomuto teamu s premietaním videí, ktoré predstavovali rôzne formy umenia a tie slúžili ako pozadie prehliadkového móla.
Video z módnej show si môžete pozrieť na Facebook stránke blogu: Mya Mirell Fashionista, sledujte Instagram: mya_mirell.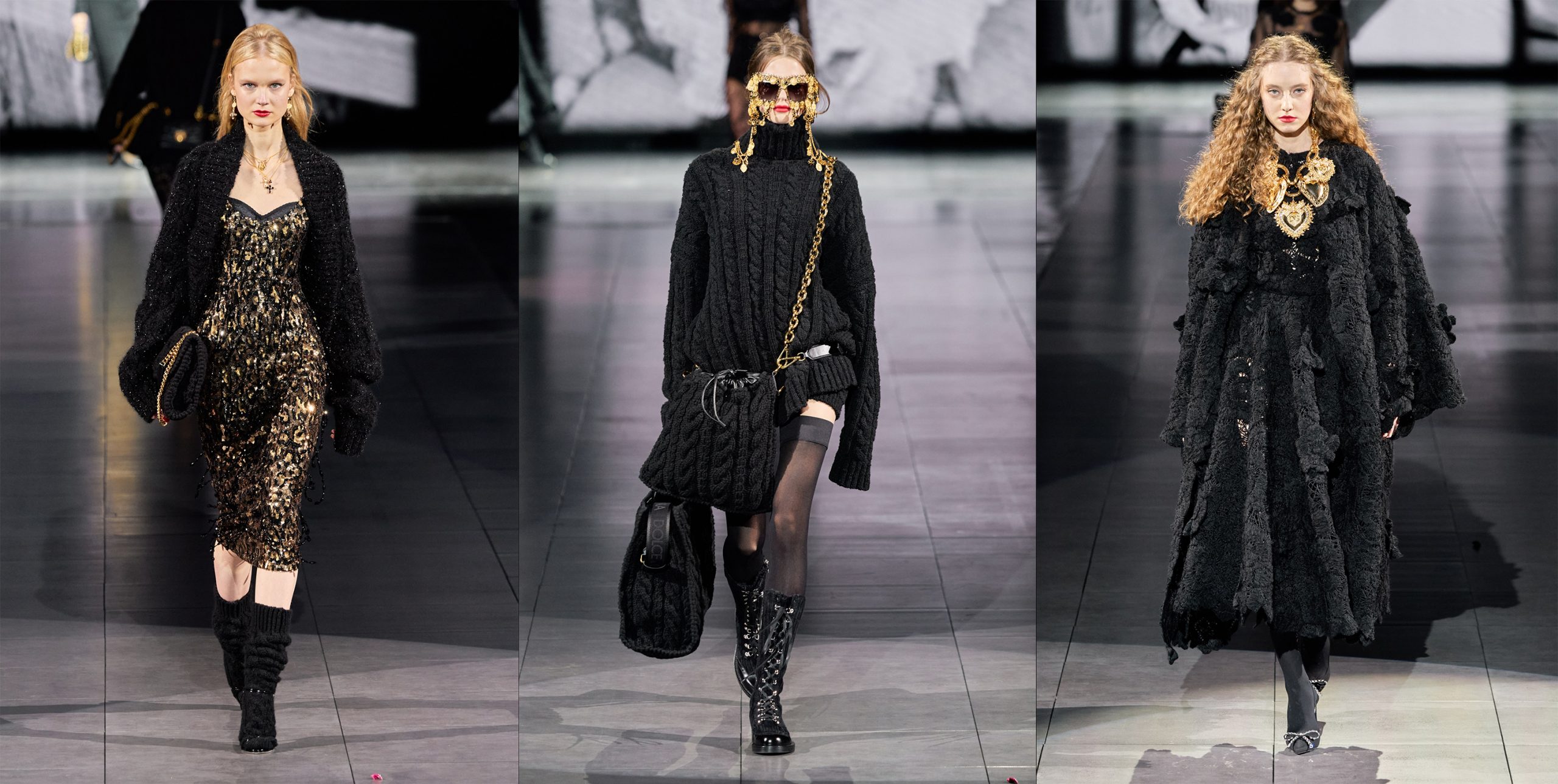 KOLEKCIA FATTO A MANO
Dizajnérske duo Dolce and Gabbana sa rozhodlo pozmeniť svoj tradičný repertoár a predstavilo kolekciu "fatto a mano" – ručnú práca. Kolekcia pre Jeseň / Zimu 2020-21 bola zameraná na krajčírstvo a pleteniny. Väčšina modeliek bola oblečená od hlavy po päty v pleteninách neutrálnych farieb – v super veľkých svetroch, nohaviciach, kraťasoch, sukniach, čiapkach, ponožkách, dokonca i v papučkách na spanie.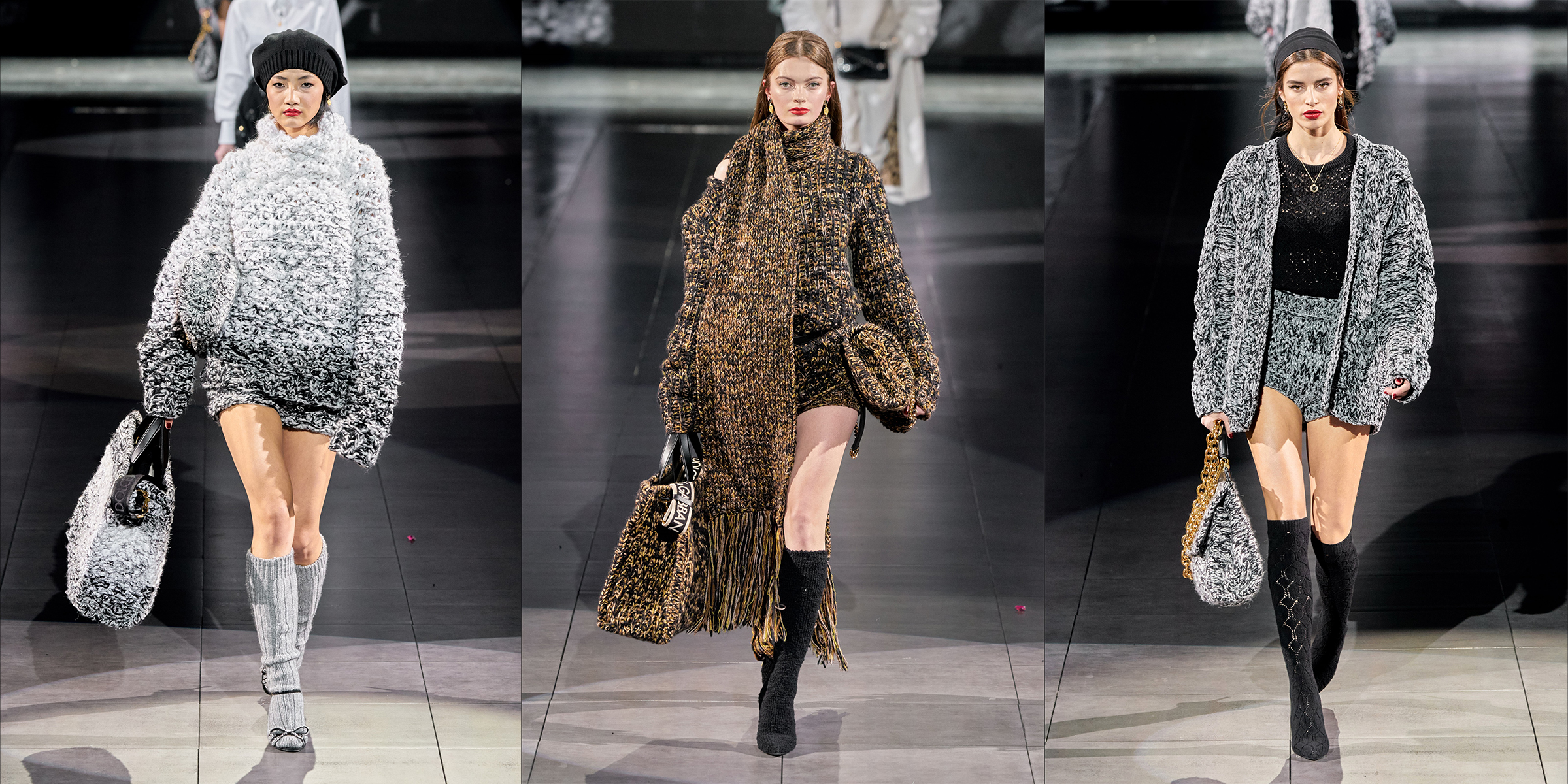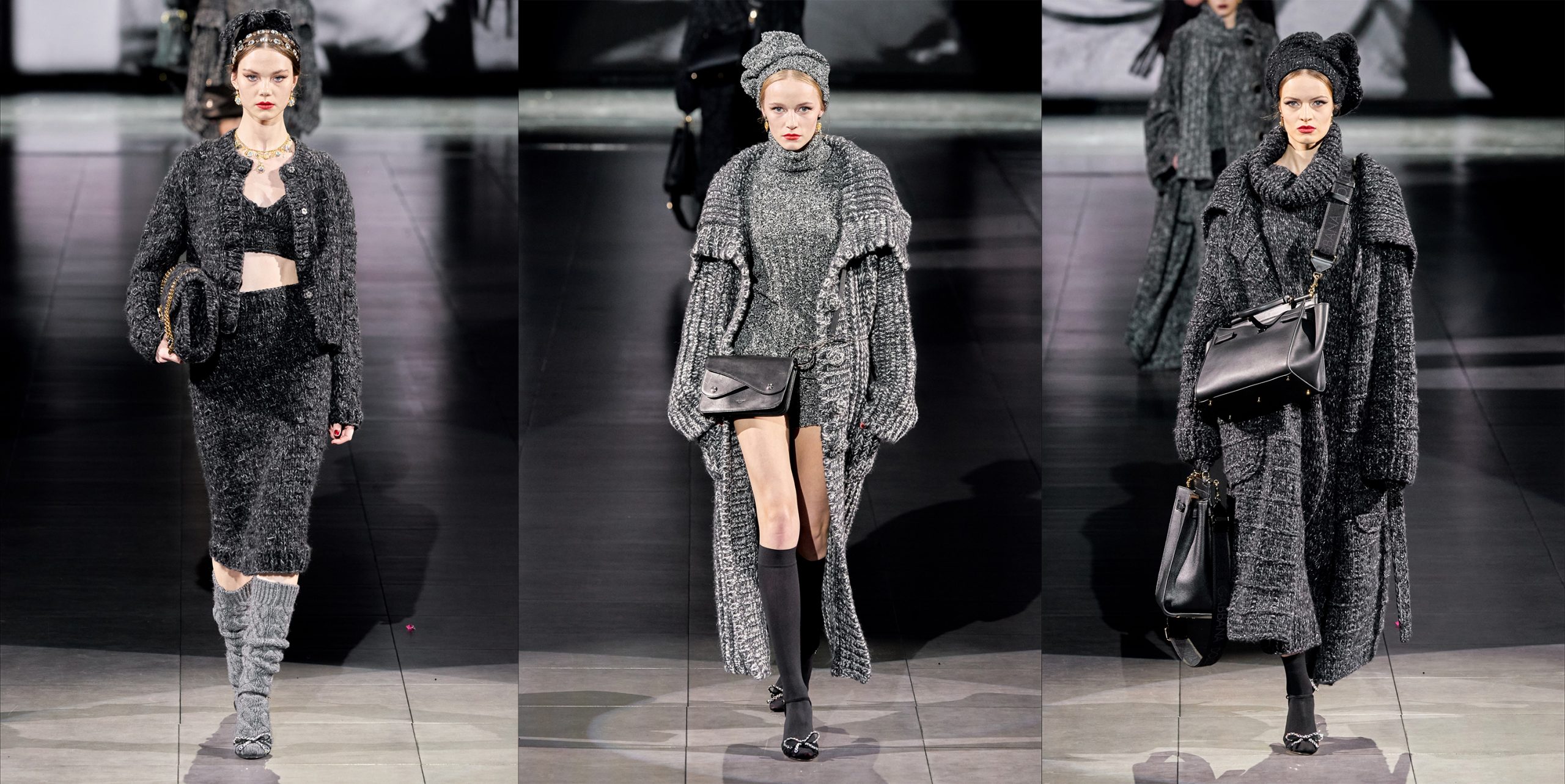 TLMENÁ LÍNIA KOLEKCIE DOLCE AND GABBANA – JESEŇ / ZIMA 2020 – 21
Tak, ako je značka Dolce and Gabbana odvekov známa opulentnou show predvádzanou na mólach, odkiaľ na diváka hýria farebné modely lesklých a luxusných materiálov plné zdobení, výšiviek, masívnych šperkov, bola kolekcia pre túto zimnú sezónu vcelku tlmenou show. Tento tlmený mód zimnej línie Dolce and Gabbana 2020 – 21 potvrdili v závere prehliadky aj samotní dizajnéri, Domenico Dolce a Stefano Gabbana, klaňajúc sa v tmavých farbách.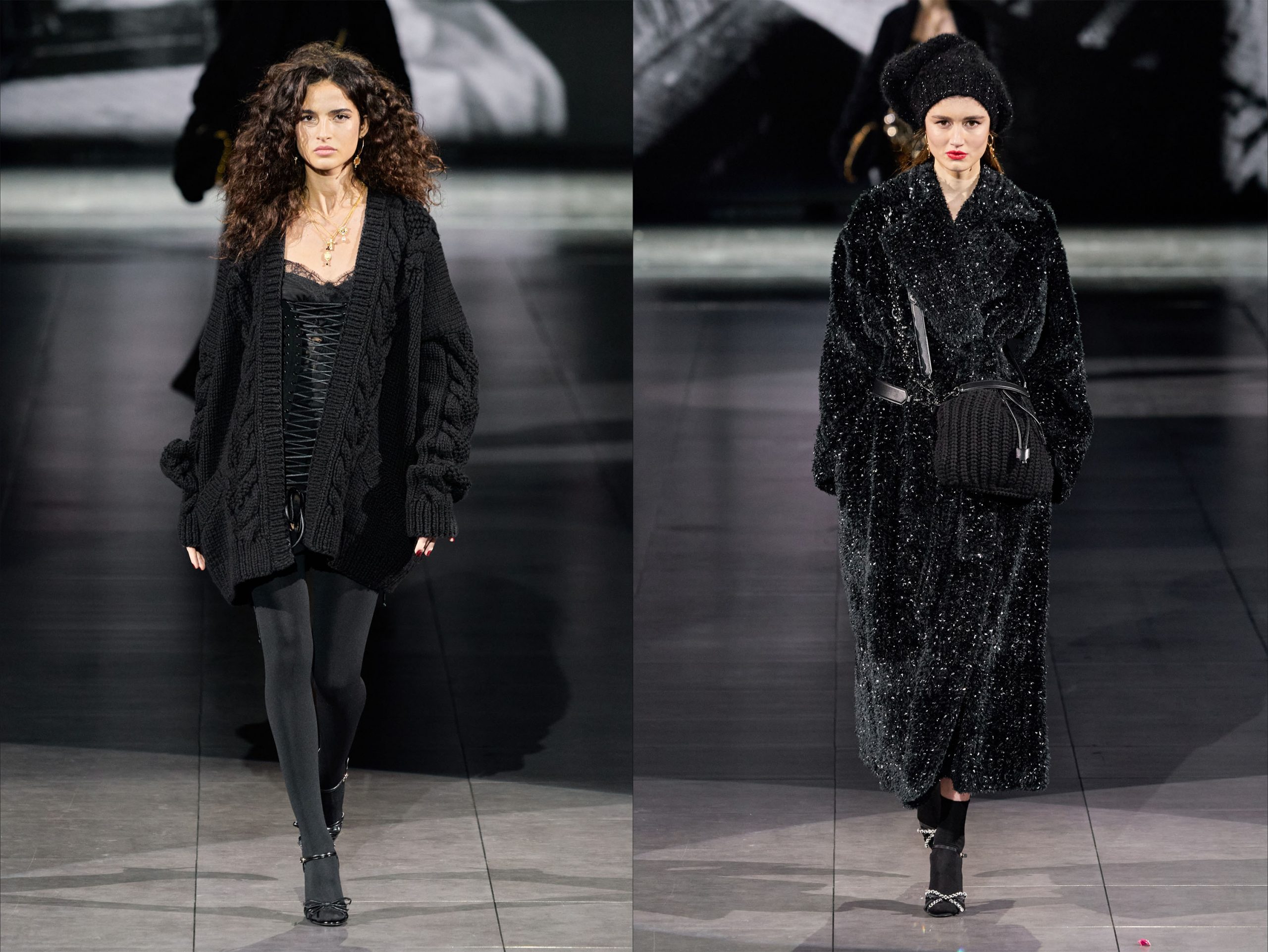 Módna prehliadku otvorili komplet čierne looky s nadmerne strihanými kardiganmi, šatami, až po kúsky inšpirované spodným prádlom. Takmer exkluzívne čierna kolekcia predviedla technickú prácu ako dizajn značky.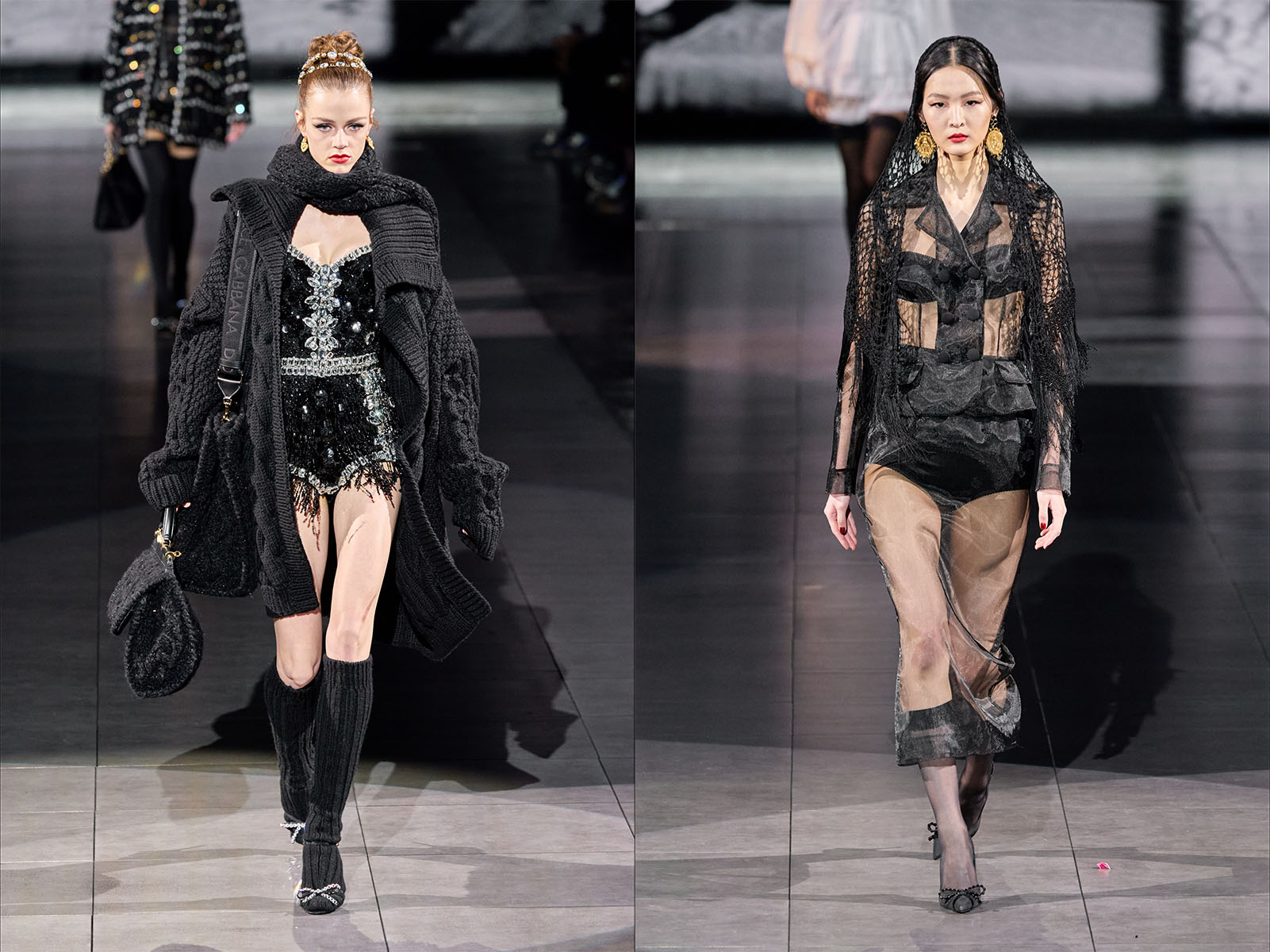 Takmer úplne čierny vzhľad modelov dominoval aj dňu.
TRENDY DOLCE AND GABBANA PRE ZIMU 2020- 21
Priehľadné sukne sa nosia túto sezónu so šnurovacími čižmami, crossbody kabelkami a s pletenými ponožkami do mašľami zdobených sandál na opätkoch.
Smerom do stredu módnej show sa predstavil súbor ružami inšpirovaných odevov s doslova hodvábnymi ružami vo farbách sýtej červenej a v zelených akcentoch.
Pozornosť strhávali výšivky s hodvábnymi ružami, flitrovými akcentami, jemnou čipkou a čipkou chic makramé.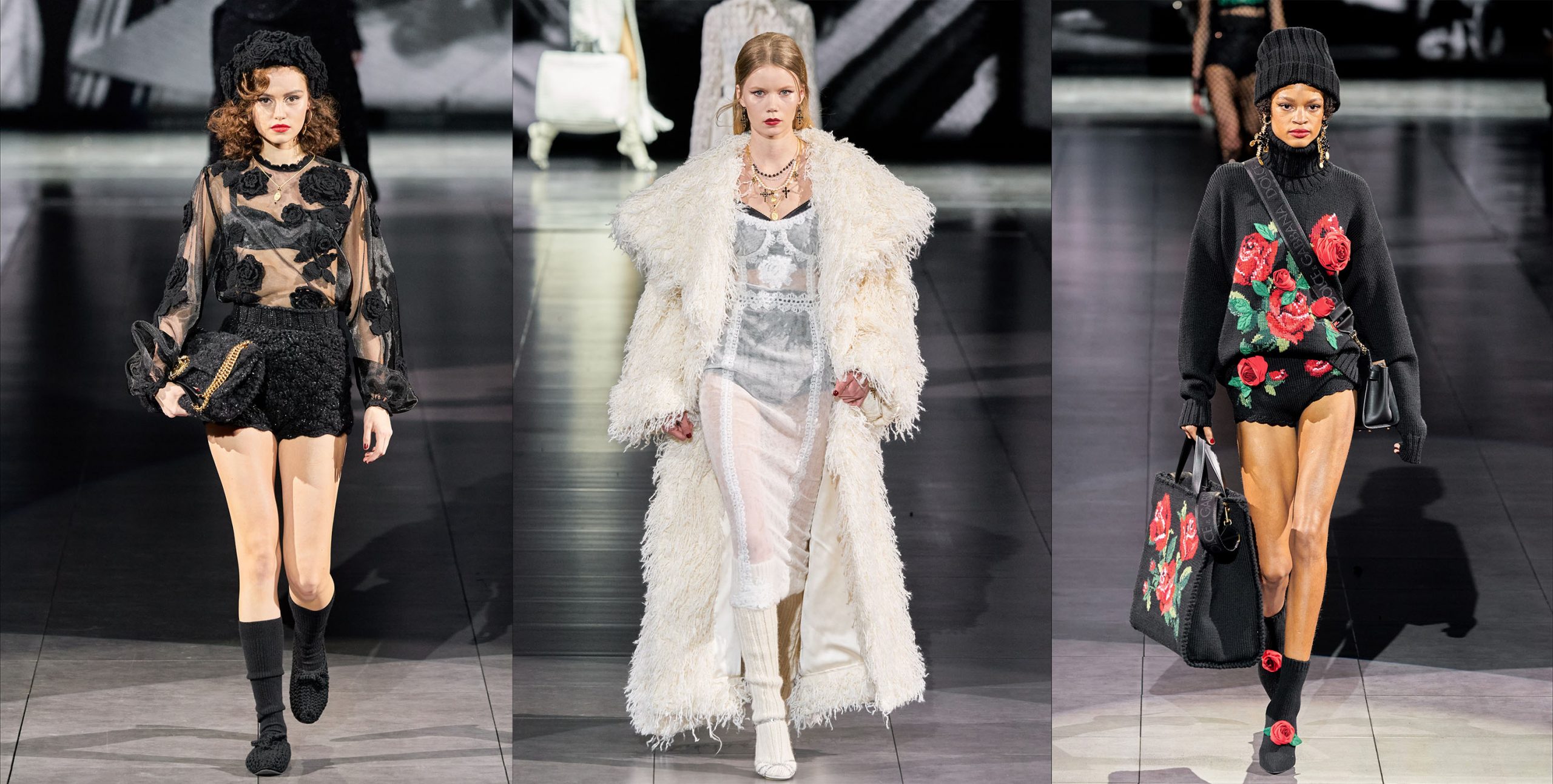 Potlače zahŕňali bodky, rovnako ako kvitnúce červené kvetinky.
VRSTVENÉ ÚPLETY
Žena Dolce and Gabbana zimnej sezóny 2020 – 21 je o vrstvách na vrstvách. Vrstvené úplety a ručná práca v odtieňoch béžovej krémovej a šedej, praktické a sexi súčasne, sa predstavili v závere módnej show.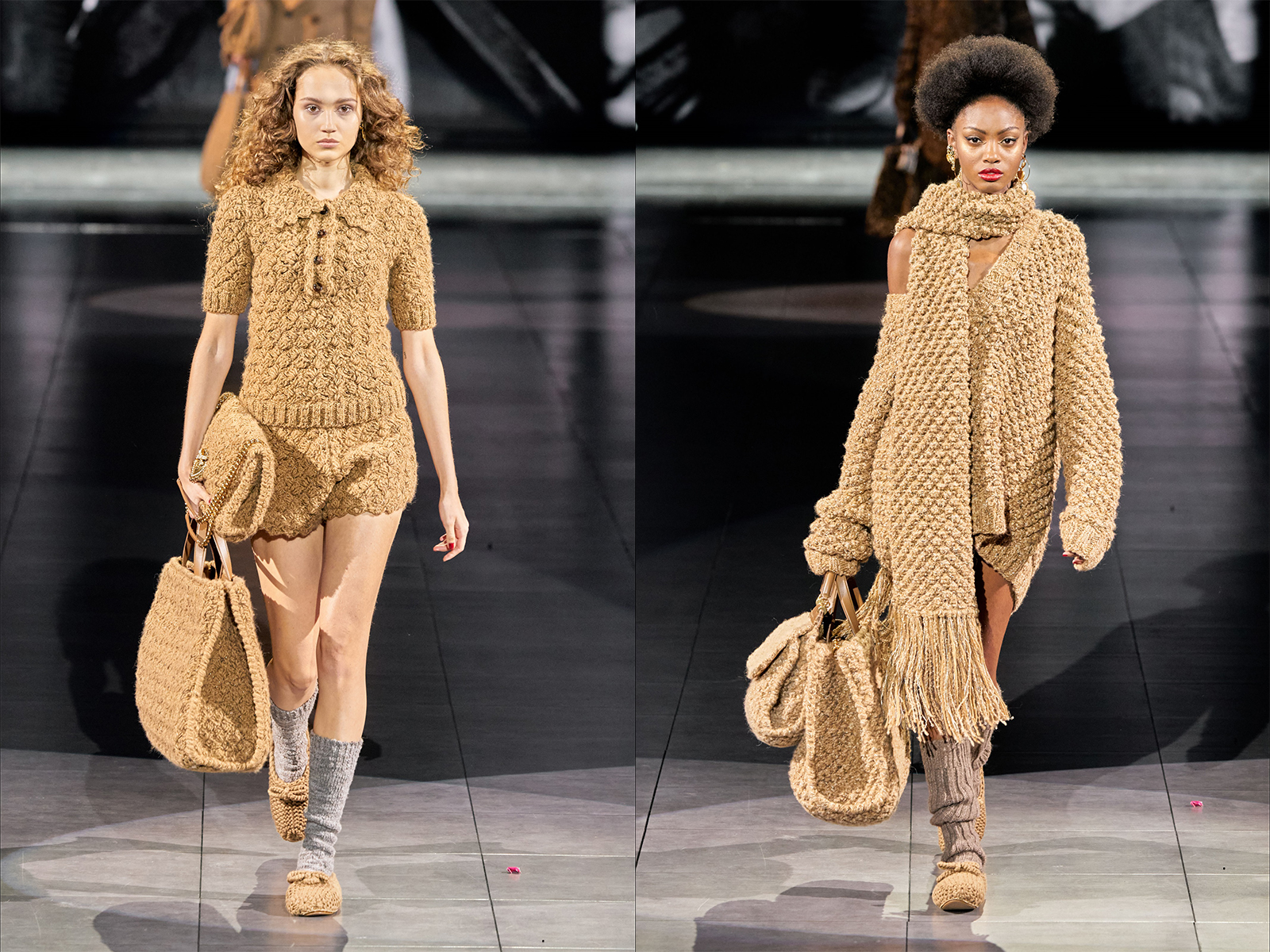 Zaujímavé bolo predvedenie zručností tých anonymnejších zamestnancov (remeselníkov) na hrubých, jemne priehľadných, príjemných úpletoch, sexi šatách a sukniach vyšperkovaných kvalitnou prácou a zdobeniami.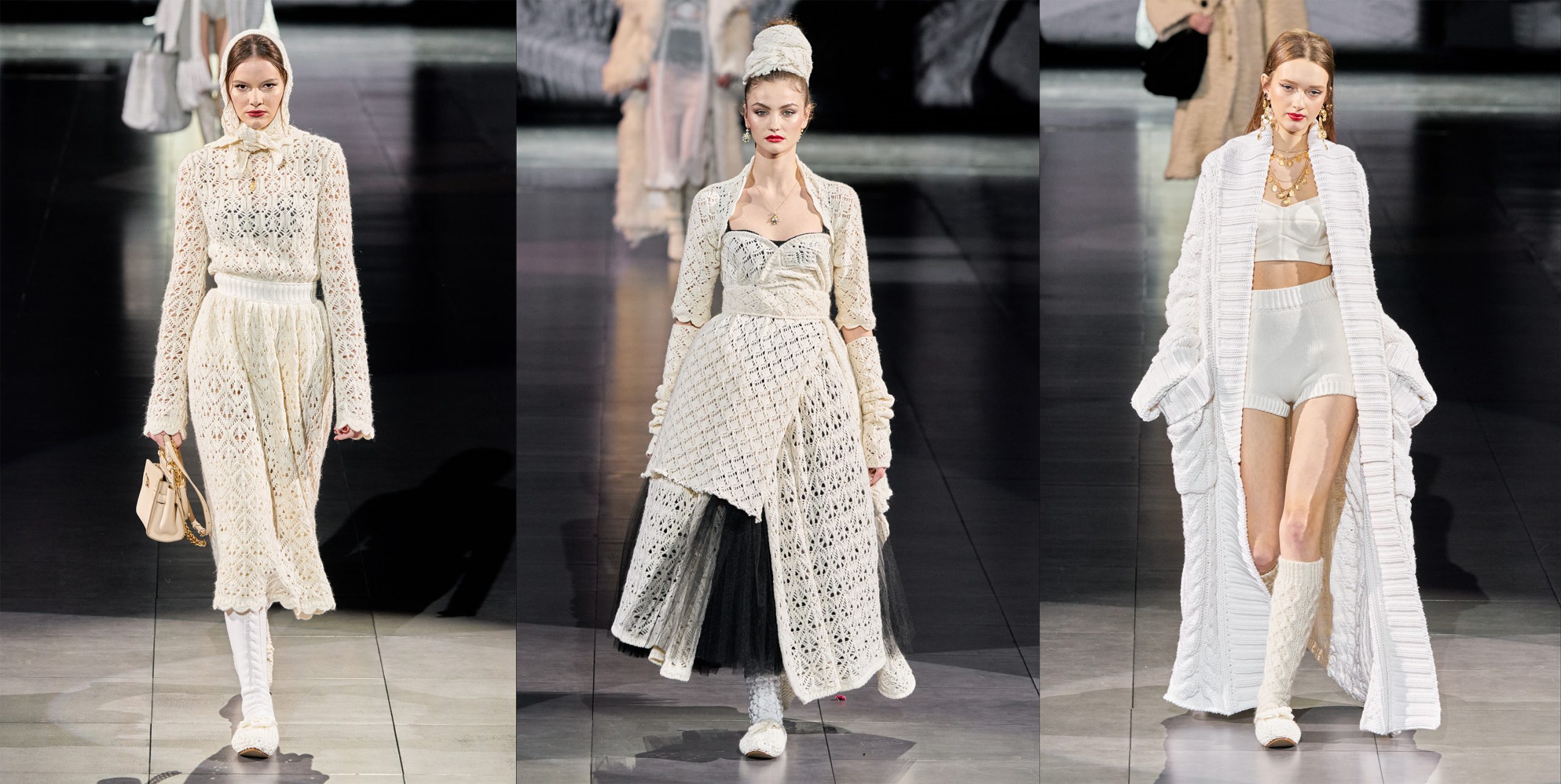 Toto všetko sú základné kúsky Dolce and Gabbana modelov, ktoré zákazník pozná a miluje. Napriek tomu slúžia ako pripomienka kvality a krajčírskeho umenia, ktoré robí módny dom najlepšie a ku ktorého základom sa vrátil.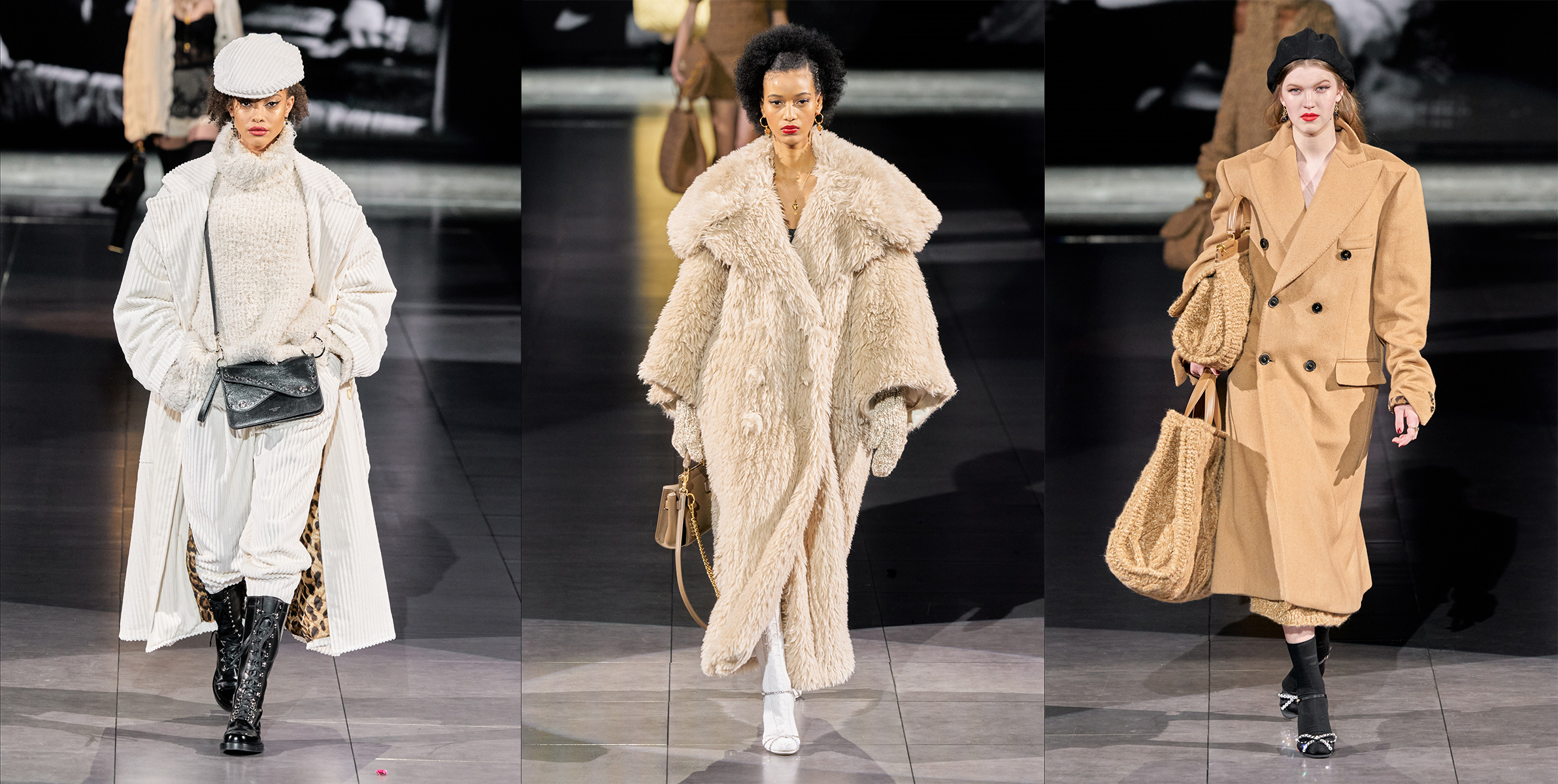 Objavili sa aj záblesky jemných zimných farieb v podobe príjemných a praktických outfiov stvorených pre zimnú sezónu 2020 – 21.
DOPLNKY KOLEKCIE DOLCE AND GABBANA – JESEŇ / ZIMA 2020 – 21
Doplnky zimnej kolekcie, ktoré zdobili looky boli chlapčenské čiapky, veľké čiapky a kúzelne zdobené šperky.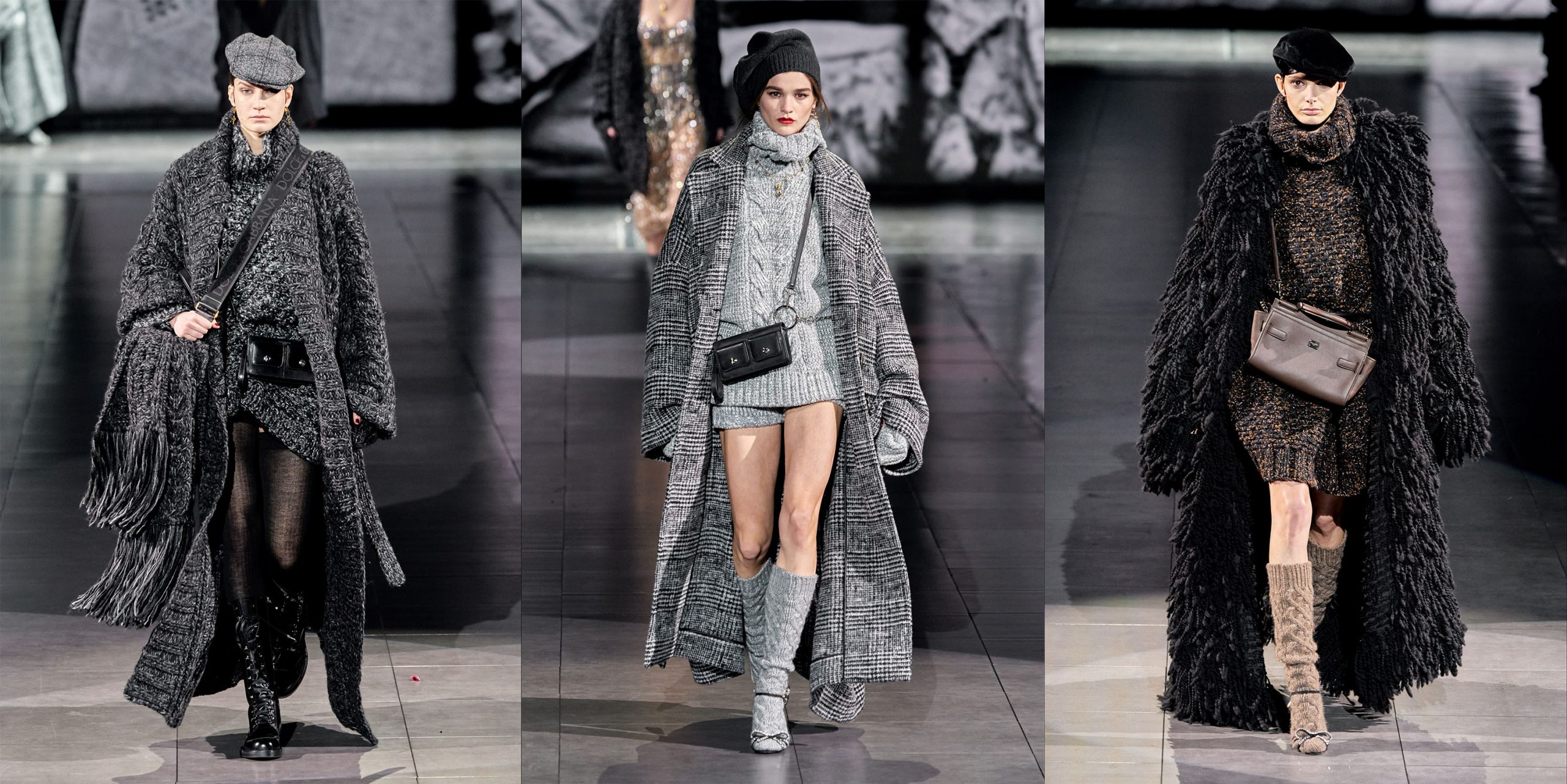 A tak, ako značka musí veľa vecí napraviť kvôli pošramotenej povesti vďaka škandálom, je zrejmé, že dúfa v nový deň, čomu držím silno palce. Súčasná corona kríza, ktorá krátko na to nastala v módnom priemysle, však nikomu v tomto ani v iných odvetviach nie je ku prospechu. Môžeme teda len silno dúfať, kedy bude táto kríza zažehnaná a módne domy budú môcť opäť predviesť v plnej kráse vo fyzickej rovine pre divákov svoje unikátne kolekcie.
zdroj obrázkov: Dolce and Gabbana, getty images, Vogue
Sledujte Facebook stránku blogu: Mya Mirell Fashionista a Instagram : mya_mirell-