Milan Fashion Week – Móda Ženy, september 2020, sezóna Jar/Leto 2021, časť III.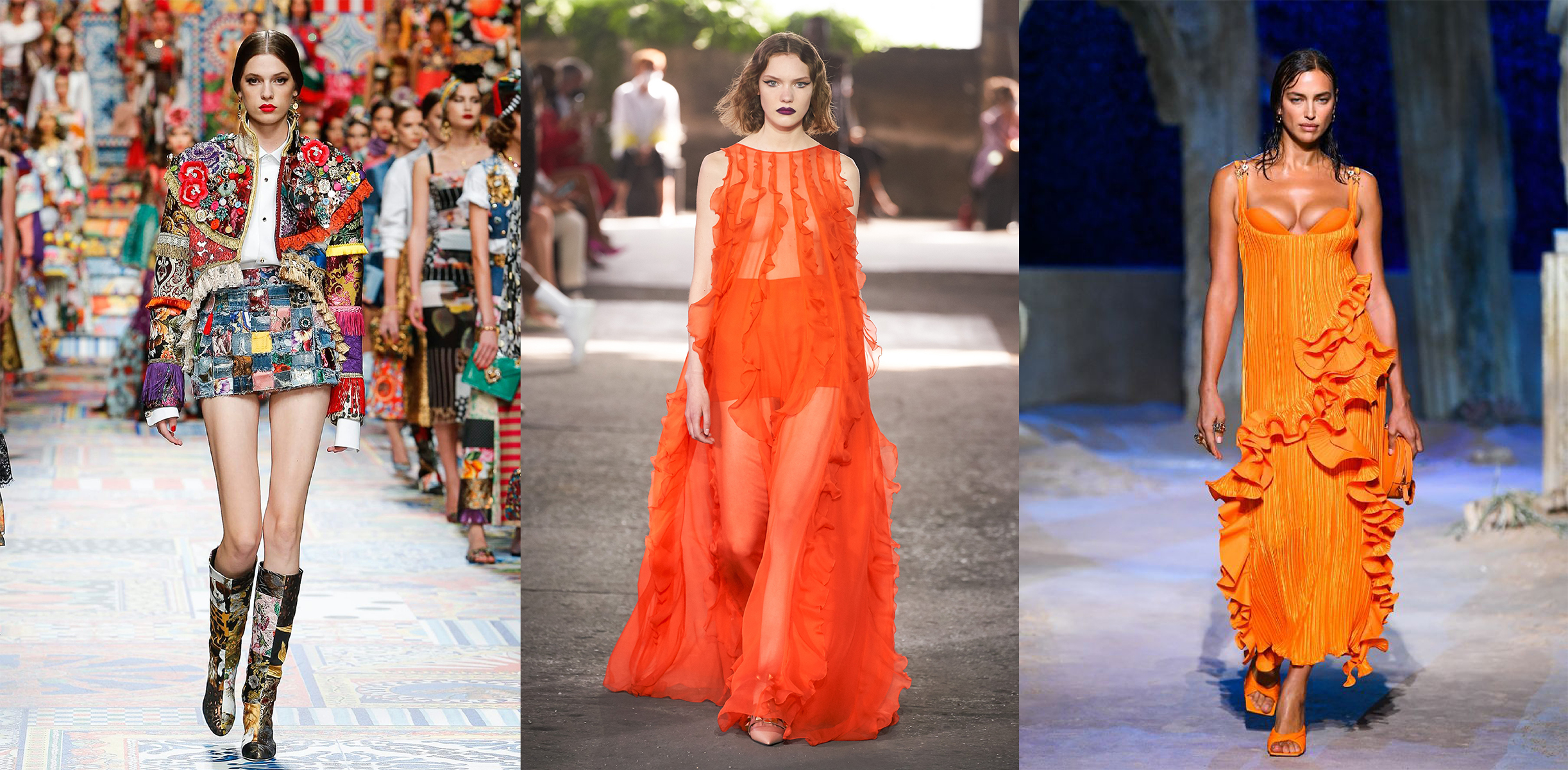 Septembrový týždeň módy, Milan Fashion Week, letná sezóna 2021 (09/2020) vyzeral tentokrát odlišne ako kedykoľvek predtým. Zatiaľčo niektorí dizajnéri sa snažili udržať svoj biznis nad vodou uprostred tejto neutíchajúcej pandémie, mnohí tiež zápasili s tým, ako odprezentovať svoje kolekcie v tradičnom čase módnych týždňov najefektívnejšou formou, čo sa nákladov a kreativity týka. Zároveň však pútavým spôsobom pre verejnosť, no za dodržania sociálnych odstupov podľa medzinárodne nastavených hygienických pravidiel. Úloha vcelku náročná vo všetkých ohľadoch a preto je táto doba a situácia nielen v módnom svete považovaná za jedno z najzaťažkávajúcejších období.
Pozrime sa na módne prehliadky, ktoré sa konali počas Milan Fashion Weeku, sezóny Móda Ženy spojenej s Módou Muži počas tradičného týždňa módy v septembri.
FENDI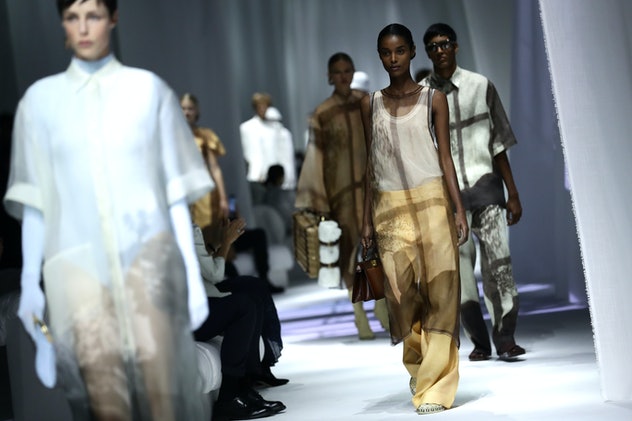 Prehliadka talianskej luxusnej značky Fendi sa konala podľa oficiálne stanoveného harmonogramu Milan Fashion Weeku vo fyzickej rovine za
účasti menšieho počtu pozvaných hostí, avšak v rámci intímnych a sociálnych dištancov. Hostia boli vzdialene usadení jeden od druhého uprostred dráhy móla, ktoré bolo vyrobené z vrstvených, éterických panelov vlniacich sa pod jemným vánkom. Taktiež kolekcia Fendi pre sezónu Jar/Leto 2021 bola ľahká a vzdušná, tvorená z jednoduchých siluet z jemných paliet svetlej modrej, bielej a žltohnedej.
Kolekcia Fendi dizajnérky Silvia Venturini Fendi je tichou a introspektívnou víziou pre Jar 2021, je to metafora na našu éru spoločenských odstupov.
PRADA
Vo februári 2020 počas Milan Fashion Weeku, zimnej sezóny módneho týždňa Móda Ženy, ohlásila dizajnérka Miuccia Prada, že najíma RAF SIMONSA ako nového co-creatívneho riaditeľa značky. Ako bude táto spolupráca a počin vyzerať, sa ukáže až teraz. Kreatívne duo vypustilo počas septembrového Milan Fashion Weeku (09/2020) spolu svoju prvú Prada kolekciu pre sezónu Jar 2021.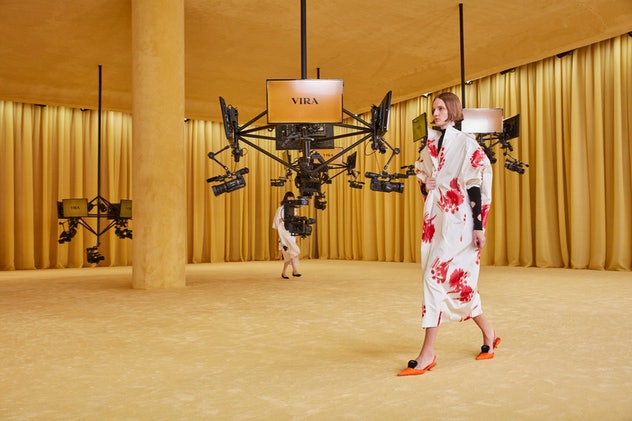 Témou bola uniforma, ktorá potrebuje vyjadrovať tiež niečo, čo je viac nadčasové ako sezónne špecifické módne kúsky – vyjadril sa v interview Raf Simons.
Módna show bola streamovaná live a fotografovaná z každej strany početnými kamerami, ktoré viseli zo stropu.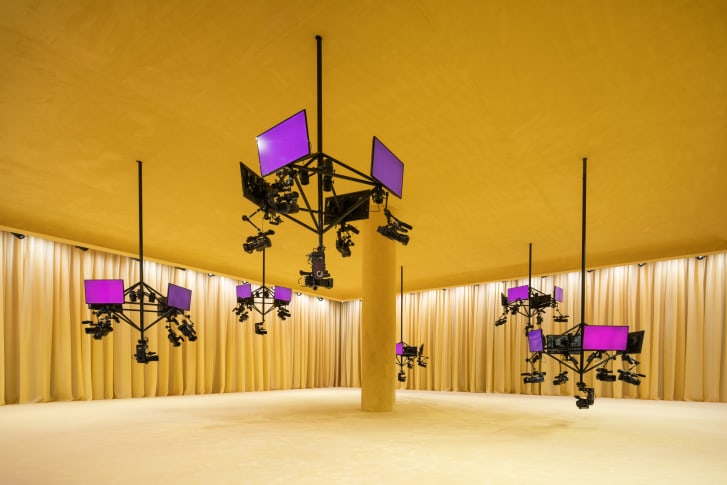 Prehliadka sa konala v žltej miestnosti potiahnutej kobercom rovnakej farby. Novinkou je, že ako prvý nadčasový klasický módny dom, nechala značka Prada predvádzať modelky, ktoré boli po prvýkrát na móle. Prítomný celej tejto módnej show bol iba celý team módneho domu Prada v zákulisí.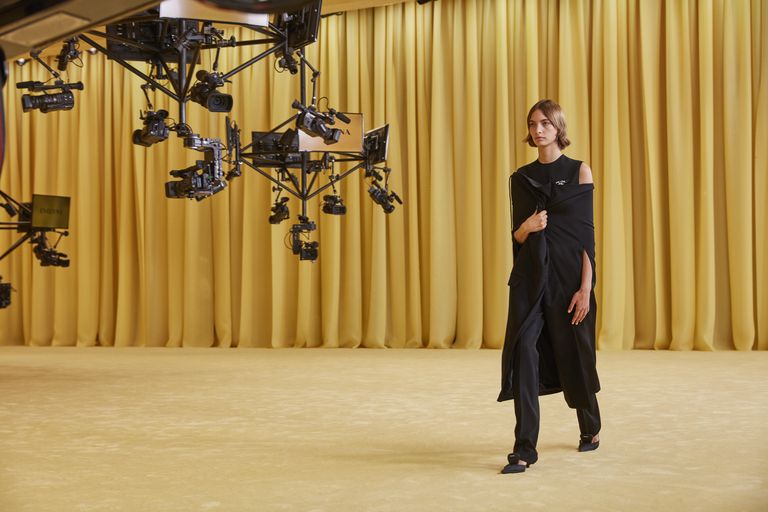 Aplikácia loga umiestnená v oblasti ramien na prednej časti a prehodené topy boli hlavnými elementami novej kolekcie PRADA, Jar / Leto 2021.
DOLCE AND GABBANA
V prehliadkový módny týždeň v Miláne sa konali počas harmonogramu vo fyzickej rovine maximálne tri módne show za deň, ostatní dizajnéri prezentovali svoje kolekcie formou live streamu alebo hľadali nové inovatívne prístupy (Giorgio Armani, Elisabetta Franchi – vrámci televíznych prenosov pre širokú verejnosť, Laura Biagiotti – prehliadka v Ríme) . Ďalšou módnou show, ktorá sa konala za prísnych opatrení bola prehliadka kolekcie Jar/Leto 2021 značky Dolce and Gabbana.
Kolekcia Dolce and Gabbana – Jar/Leto 2021 bude zaznamenaná v histórii ako "patchwork kolekcia", ktorá je príkladom toho, ako sa dizajnéri adaptovali na okolnosti za hranicami ich kontroly tejto sezóny. V kolekcii dominovali materiály ako luxusné brokáty, florálne satény a bodkované šifóny.
REDEMPTION
Za posledných päť rokov, udržateľná talianska módna značka Redemption predvádzala svoje rock and roll chic kolekcie na Paris Fashion Weeku, ale pre sezónu Jar 2021 sa kreatívny riaditeľ Bebe Moratti rozhodol zostať bližšie domova. Prehliadka bola krátkym módnym filmom natočeným v Lombardii. Modelky vykračovali cez krajinu v šokujúcich elektricky ružových a modrých úzkych maxi šatách, v sakách nadmerného strihu preodených cez džínsové šortky a pribudli zebrované blejzre.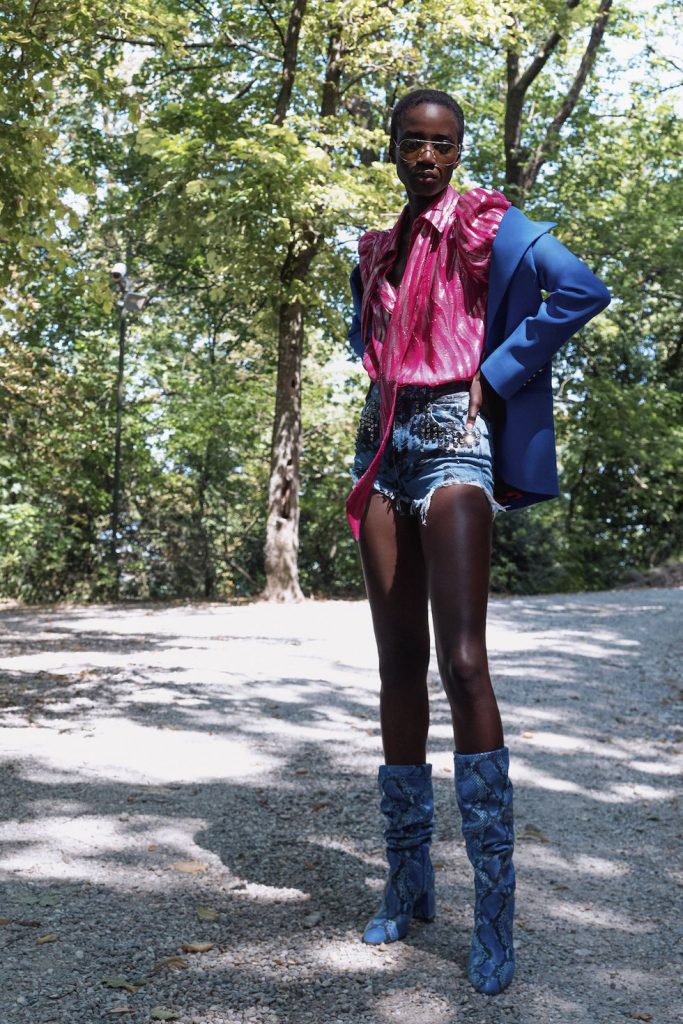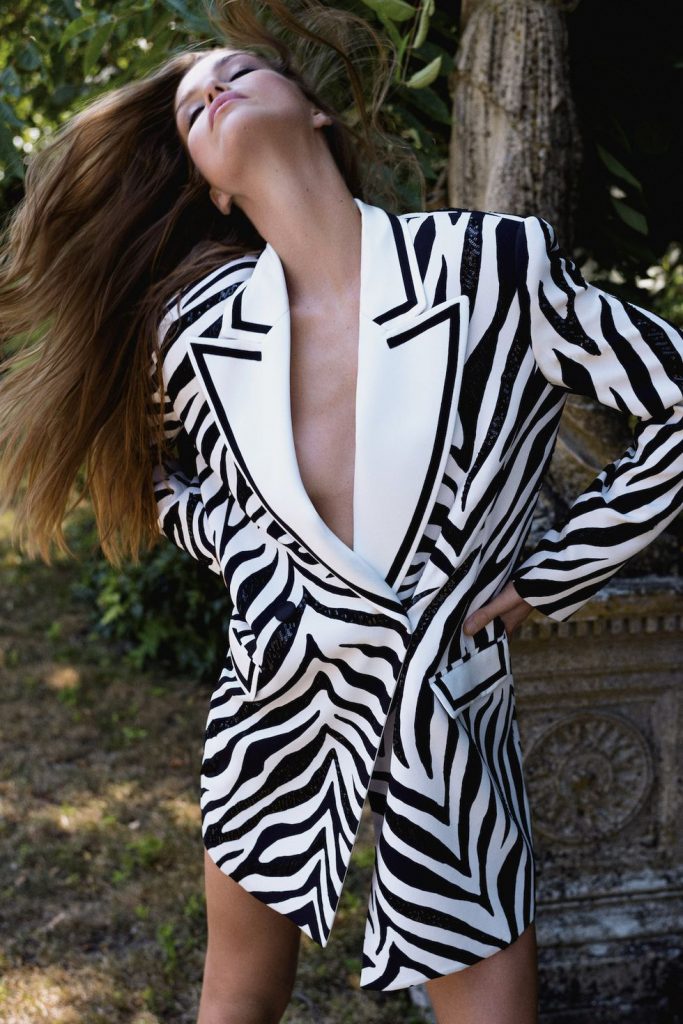 Farebné pytónové čižmy sú vegánske, zhotovené za spolupráce s udržateľnou módnou značkou obuvy AEREA, vyrobené v talianskom Venete z 50 % bio materiálu zahŕňajúceho kukuricu, drevo a bavlnu.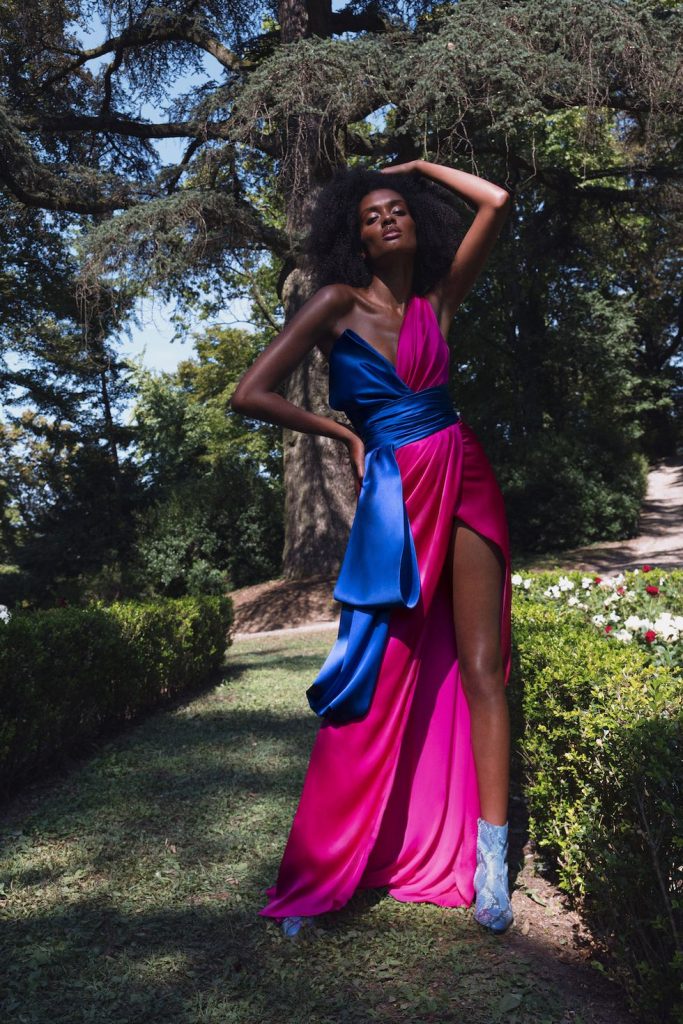 Väčšina kolekcie až po upcyklované flitrové zdobenia boli vyrobené z certifkovaných a organických materiálov vyjadrujúc dôkaz, že nie je nič viac sexi ako zodpovednosť za životné prostredie.
MARNI
Francesco Risso – dizajnér značky Marni nazval túto kolekciu "sociálny experiment". Digitálna show módnej značky Marni bola živo prenášaná z lokalít od New Yorku, Los Angeles, cez Detroit, Philadelphiu, Londýn, Miláno, Paríž, Dakar, Shanghai po Tokio.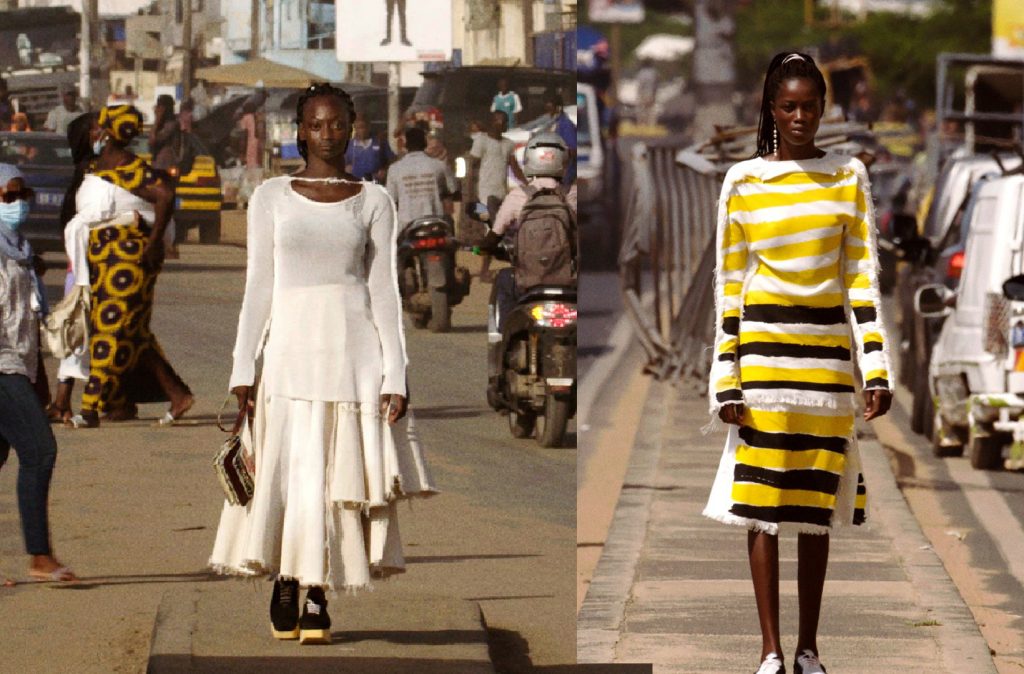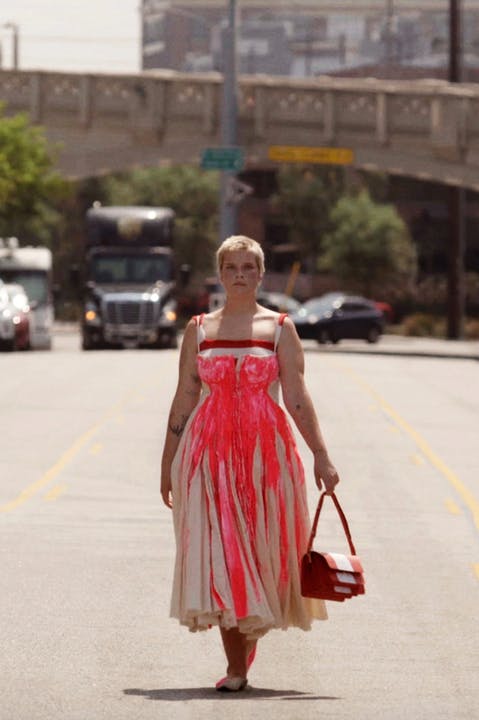 Zatiaľčo New York Fashion Week zažil veľmi málo klasických módnych show a takmer žiadny street style, konali sa filmové a streamované módne prezentácie, Miláno sa snažilo znovuoživiť tradičný Milan Fashion Week.
Taliansky módny týždeň sa spomezi svtových módnych týždňov konaných v mesiaci september, október priblížil azda najviac k normálu a snažil sa módu tradične predviesť verejnosti. Pozvaní hostia používali ochranné tvárové rúška a na klasických módnych prehliadkach boli usádzaní v potrebných vzdialenostiach. Tie sa konali v menšom počte každý deň v kombinácii s online streamovanými podobami módnych prezentácií. Dizajnéri používali taktiež ochranné rúška, tie boli videné aj na modelkách počas niektorých módnych show, pričom tieto zakomponovali aj do svojich kolekcií ako nové prvky – v značke Marni, v značke Philosophy di Lorenzo Serafini boli ako prvok zladené spolu s rukavicami a v značka Valentino.
Dizajnér Pierpaolo Piccioli, módna show Valentino – kolekcia Jar/Leto 2021, Miláno, Milan Fashion Week, Móda Ženy – september 2020
zdroj obrázkov: Vogue Italia, Vogue , getty images, Valentino, Marni, Fendi, Prada