Karl Lagerfed, módna ikona, muž, mýtus navždy opustil svet módy.
Módny svet smúti ! Ikonická legenda módy, muž, mýtus, svetoznámy módny dizajnér KARL LAGERFELD nás navždy opustil. Najznámejší žijúci Nemec nedávnej minulosti, pýcha módneho sveta, naposledy vydýchol 19. februára 2019 vo veku 85 rokov po boji s náročnou chorobou v Paríži.
Muž väčší než život samotný s nevyčerpateľnou kreativitou a energiou, sila prírody, módny guru na okraji budúcnosti, ktorý zasiahol a ovplyvnil rôzne generácie.
Narodený v Nemecku módny "cisár" , kráľ módy, ako ho prezývali, známy pre svoj nezameniteľný look – tmavé okuliare, vysoký golier, rukavice bez prstov a biely chvost, bol 18. februára prijatý do americkej nemocnice na predmestí Paríža a v skorých ranných hodinách skonal.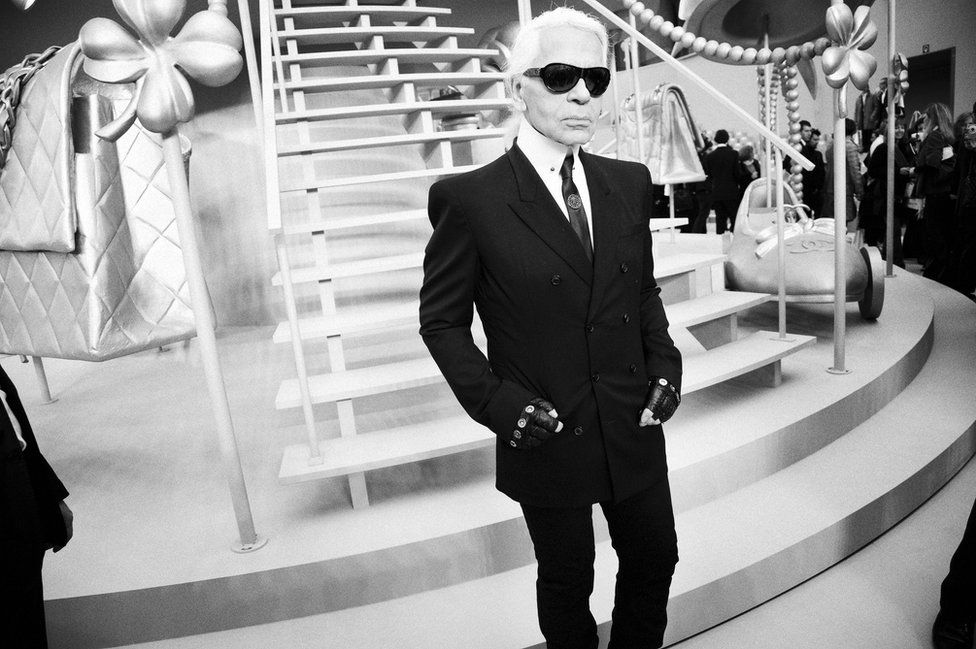 Karl Otto Largerfeld bol kreatívny riaditeľ, módny návrhár, umelec, fotograf a karikaturista, ktorý svoj život naplno zasvätil móde, žil a pracoval v Paríži. Spolupracoval na množstve projektov
spojených s módou a umením. Počas svojej 64 ročnej kariéry získal mnoho ocenení. V roku 2010 obdržal ocenenie Fashion Visionary Award počas New York Fashion Weeku, cenu za celoživotný prínos od Americkej rady módnych dizajnérov, cenu za výnimočný prínos od Britskej módnej rady a taktiež najvyššie ocenenie, rád Čestnej légie od francúzskeho prezidenta Nicolasa Sarkozyho.
Nevyčerpateľne kreatívny s presnosťou hodinových ručičiek, precízny perfekcionista, tak možno charakterizovať tohto renesančného muža. Narodil sa 10. septembra 1933 v Hamburgu, no o dátume jeho narodenia kolujú špekulácie s domnienkou, že bol starší. On sám uvádzal, že mladší.
Kreatívny riaditeľ, umelec a dizajnér v pozadí početných módnych značiek Chanel, Fendi a Karl Lagerfeld dokázal, že Haute Couture umenie nie je mŕtve, tak ako niektorí tvrdili, dokonca ani printové. V priebehu svojho života pracoval taktiež ako fotograf napríklad pre magazín V.
Karl Lagerfeld – prehliadka najnovšej kolekcie pre Jar/Leto 2019 značky Chanel sa odohrávala v Grand Palais a premenila sa na plážovú scénu počas Paris Fashion Weeku, 2. októbra 2018.
Podľa jeho blízkeho zdroja bojoval s chorobou, ktorá ho zastihla len nedávno statočne. "Karl bol veľmi hrdý na svoj fitness zdravý spôsob života, takže rakovina pankreasu prišla ako obrovský šok".
Hoci sa mnohé modelky a známe osobnosti vyjadrili ľútostivo a šokovane nad náhlym odchodom kráľa do módneho neba, čosi napovedalo o hrozivej predtuche. Karl sa už v decembri 2018 prostredníctvom svojich zástupcov vyjadril, že je príliš vyčerpaný, aby sa zúčastnil záverečného defilé couture show vlastnej módnej kolekcie Chanel konanej v januári. Špekulácie na seba nenechali dlho čakať a za účelom ich zamedzenia vyslal Karl dôveryhodný odkaz. Prostredníctvom instagramu uverejnil video, v ktorom gratuluje Carine Roitfeld, bývalej šéfke magazínu Vogue Paris, k jej novému magazínu CR. Všetko sa teda zdalo byť v najlepšom poriadku.
Túto ilúziu však navždy pochoval skľučujúci fakt, že Karl už nebude viac hviezdiť na zemskom módnom poli, avšak kraľovať ostane na poli nebeskom. Ťažko tomu stále uveriť, no nesmrteľnosť zatiaľ nie je v ľudských silách. Aj keď módny svet je nateraz otrasený a zdá sa, že nič už nebude ako predtým za čias Karla, bude sa s tým musieť popasovať. Každé obdobie má svoje ikony, osobnosti, aké sa rodia zriedka. A my môžeme ďakovať Bohu za to, že sme mali možnosť zažiť tohto velikána doby, ktorý ju nesmierne obohatil svojim talentom a prínosom.
Aktuálne panujú dohady o tom, ako sa naloží s obrovským majetkom kráľa po jeho náhlom odchode. V súkromí si Karl Lagerfeld urdržiaval roky odstup po svojom dávnom 18. rokov trvajúcom vzťahu a žil iba so svojou preslávenou bielou mačkou menom Choupette s vlastným instagramovým profilom. Lagerfeld údajne raz vyhlásil, že svoj majetok zanechá práve jej. Kuriózne vtipné a možno aj pravdivé tvrdenie sa zdá stalo skutočnosťou.
No kráľ módy myslel ako sa ukázalo aj na najmenšie detaily svojho odchodu. Notorický perfekcionista zanechal päť stranový manuál, ktorý hovorí, ako sa má správať jeho módny dom, zástupcovia po jeho smrti, ako majú trúchliť, striktné inštrukcie k bielym ružiam v oknách výkladov, aké odpovede poskytnúť zákazníkom, všetkým kondolujúcim.
Hovorí o tom, ako odstrániť všetky veci z butikov a zanechať iba jednoduchú kyticu z bielych ruží so stanoviskom zástupcov módneho domu. Môžete to vidieť v rôznych butikoch, ktoré stratili svoj lesk a priniesli smutnú správu, tak na slávnom bulvári Champs Elysees v Paríži, ako aj všade po svete. Kvety majú mať presnú výšku 120 cm a majú byť umiestnené v jednoduchej transparentnej váze. Maestro si želá si byť spopolnený a popol roztrúsený tak ako matkin a jeho dávneho ex partnera Jacques De Baschera a neskôr pochovaný so svojou mačkou, ktorá ho prežila. Pochovaný bude bez ceremónie, ako sa uvádza v jeho poslednom želaní.
Fanúšikovia tiež vzdávajú poctu zosnulému návrhárovi nosením bielych ruží pred butiky. Sleduj facebook stránku Mya Mirell Fashionista a album Karl Lagerfeld.
Karl Lagerfeld zasiahol srdcia mnohých ľudí a jeho vplyv bol generačný. Bol jedným z najvýraznejších módnych dizajnérov 20. a 21. storočia.
Jeho vyvíjajúca sa kreativita a osobitosť, moderné vplyvy a prínos módnemu svetu, špecifický štýl, pracovitosť, vášeň k móde a zanietenosť, ktorá mu vydržala po celý život až do posledného výdychu z neho spravili legendu, ikonu, ktorá ostane navždy živá v mysliach a pamiatkach mnohých z nás.
Stanovisko módneho domu Karl Lagerfeld na instagramovej sociálnej sieti znelo: Módny dom Karla Lagerfelda zdiela s hlbokým zármutkom a emóciou odchod na večnosť svojho kreatívneho riaditeľa Karla Lagerfelda, ktorý skonal 19. februára 2019 v Paríži, vo Francúzsku. Bol jedným z najvplyvnejších a najoslavovanejších dizajnérov 21. storočia a ikonický, univerzálny symbol štýlu. Vďaka fenomenálnemu zmyslu pre kreativitu, Karl bol vášnivý, silný a neustále bádavý. Zanechal za sebou neobyčajné dedičstvo ako jeden z najväčších dizajnérov našej doby. Niet slov ktorými vyjadriť, ako veľmi bude svetu chýbať.
Oficiálne stanovisko módneho domu Chanel v pôvodnom znení z instagramu:
chanelofficial
It is with deep sadness that the House of CHANEL announces the passing of Karl Lagerfeld, the Creative Director for the CHANEL Fashion House since 1983.
An extraordinary creative individual, Karl Lagerfeld reinvented the brand's codes created by Gabrielle Chanel: the CHANEL jacket and suit, the little black dress, the precious tweeds, the two-tone shoes, the quilted handbags, the pearls and costume jewelry. Regarding Gabrielle Chanel, he said, "My job is not to do what she did, but what she would have done. The good thing about Chanel is it is an idea you can adapt to many things." A prolific creative mind with endless imagination, Karl Lagerfeld explored many artistic horizons, including photography and short films. The House of CHANEL benefited from his talent for all the branding campaigns related to Fashion since 1987. Finally, one cannot refer to Karl Lagerfeld without mentioning his innate sense of repartee and self-mockery.
Alain Wertheimer, CEO of CHANEL, said: "Thanks to his creative genius, generosity and exceptional intuition, Karl Lagerfeld was ahead of his time, which widely contributed to the House of CHANEL's success throughout the world. Today, not only have I lost a friend, but we have all lost an extraordinary creative mind to whom I gave carte blanche in the early 1980s to reinvent the brand." Bruno Pavlovsky, President of Fashion at CHANEL, said: "Fashion show after fashion show, collection after collection, Karl Lagerfeld left his mark on the legend of Gabrielle Chanel and the history of the House of CHANEL. He steadfastly promoted the talent and expertise of CHANEL's ateliers and Métiers d'Art, allowing this exceptional know-how to shine throughout the world. The greatest tribute we can pay today is to continue to follow the path he traced by – to quote Karl – 'continuing to embrace the present and invent the future'." Virginie Viard, Director of CHANEL's Fashion Creation Studio and Karl Lagerfeld's closest collaborator for more than 30 years, has been entrusted by Alain Wertheimer with the creative work for the collections, so that the legacy of Gabrielle Chanel and Karl Lagerfeld can live on.