Chiara Ferragni. Jedna z najúšpešnejších módnych blogeriek a ikon, ktorú miluje celý svet. Pochádza z Talianska, rodáčka z Cremony, no dnes sa pohybuje po celom svete vďaka svojej popularite a úspechom, ktoré zožala za pomerne krátky čas. Najčerstvejšia informácia dnešného dňa (20. marec 2018), ktorá sa rozšírila internetom bleskovou rýchlosťou je, že dnes 31 ročná Chiara spolu so svojím partnerom, talianskym raperom, producentom a influencerom Fedezom, sa stali rodičmi. Tento pár od času, kedy ju Fedez v deň pred jej 30. narodeninami pred verejnosťou romanticky požiadal o ruku, otvorene zdielal celý svoj vzťah na instagrame.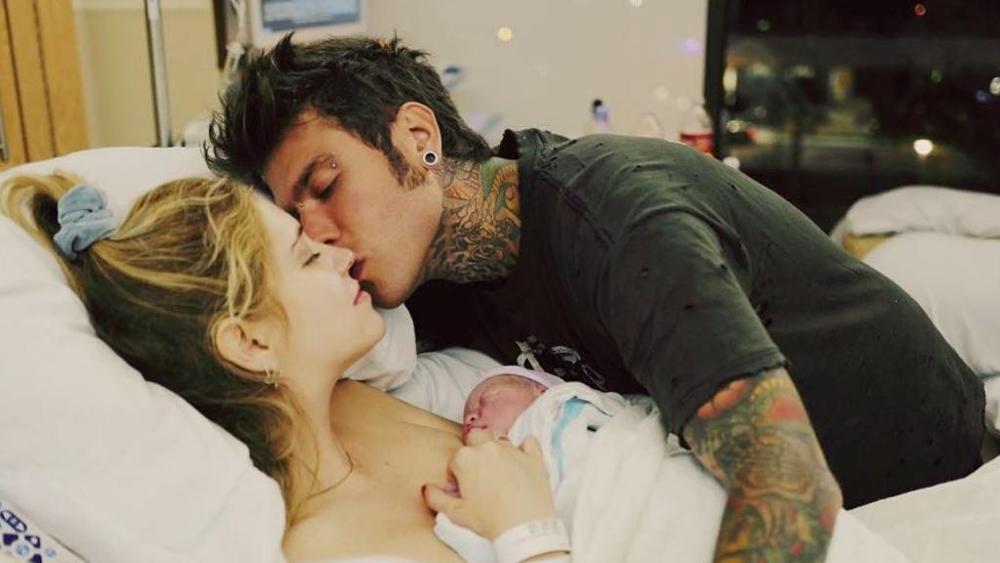 zdroj: LaStampa it
Za miesto, kde sa rozhodla dať život svojmu synovi so zvláštnym menom Leone (lev) si zvolila slnečnú Kaliforniu, kde často pobýva. Kalifornia je totižto dejiskom showbiznisu a strediskom sústredenia hviezd. Jej meno v minulých rokoch nebolo v našich končinách veľmi frekventované a známe, no módny svet ju pozná dlhšie. Dnes je už z Chiari Ferragni módna ikona, ktorá dostáva nielen prvé rady, tzv. front row pri prehliakových mólach, ale spolupracuje s rôznymi svetovými značkami, čo jej vynáša nemalé peniaze.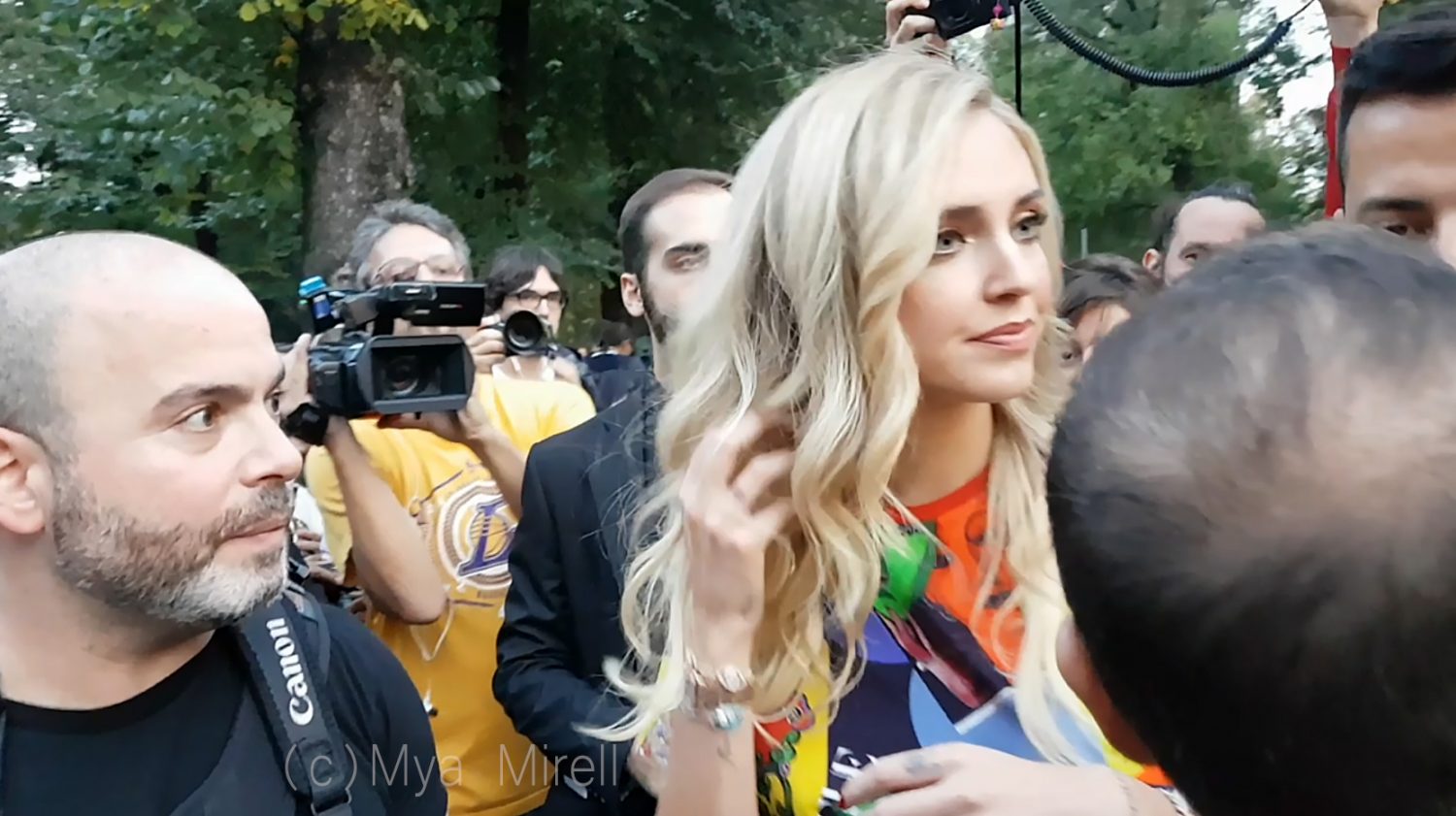 Svojím úspešným životným štýlom potiahla aj jednu z mladších sestier Valentinu, ktorá je dnes už rovnako vyhľadávaná fanúšikmi , fotografmi a taktiež módnou ikonou a influencerkou. S Valentinou som si urobila na tohtoročnom (02/2018 ) februárovom milánskom týždni módy pred prehliadkou značky Philosophy di Lorenzo Serafini aj spoločnú fotografiu. Videá s ňou z tohto týždňa módy a iných nájdete na facebook stránke blogu myamirell.eu s názvom Mya Mirell Fashionista a tatiež na instagrame mya_mirell.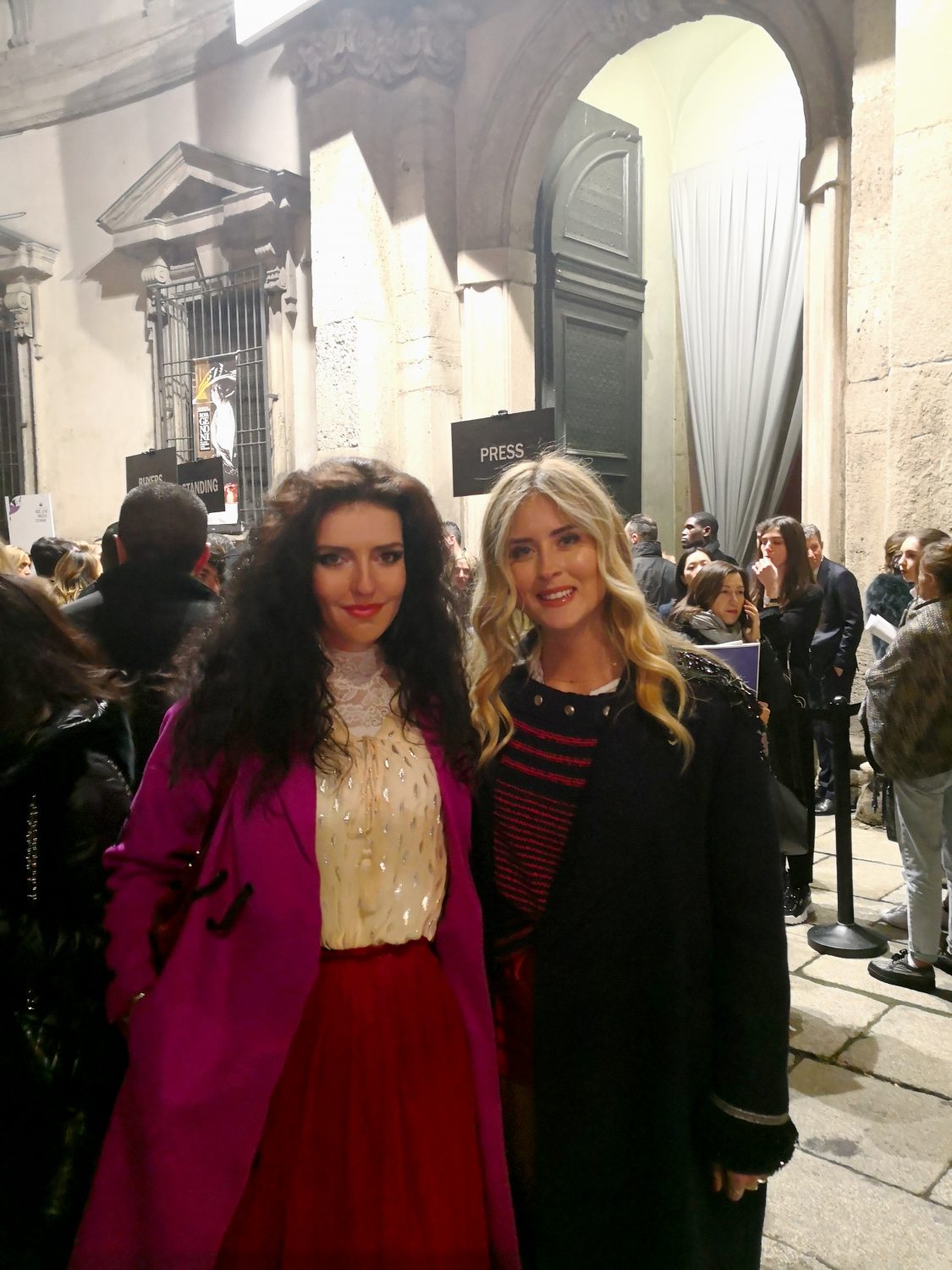 V septembri 2017 som ju na týždni módy v Miláne požiadala, aby pozdravila Slovensko – viď video: https://www.youtube.com/watch?v=swj7cDhvf84&t=3s
ZAČIATKY A RAKETOVÝ ÚSPEŠNÝ ŠTART CHIARI
Chiara Ferragni začala svoju činnosť v roku 2009 so svojím blogom TheBlondeSalad.com, no treba povedať, že táto šikovná aktívna Talianka predbehla dobu. Začala v čase, kedy ešte nebola na výslní éra blogov, instagramu a množstva inšpirácií, ktoré jemná, spočiatku nevýrazná dievčina s potenciálom vyštudovať právo na talianskej univerzite Bocconi, ktorú nedokončila, začala svetu ponúkať. Krátko na to jej písanie, osobitý štýl a návštevnosť blogu zaujalo módny magazín Elle a v roku 2015 sa jej podarilo ako prvej módnej blogerke objaviť sa aj na titulke magazínu Vogue. Okrem toho firma Matel venovala Chiare svoju pozornosť v podobe vytvorenia bábiky Barbie, ktorá nesie jej podobizeň. V súčasnsoti ju radi uverejňujú rôzne svetové magazíny a portály.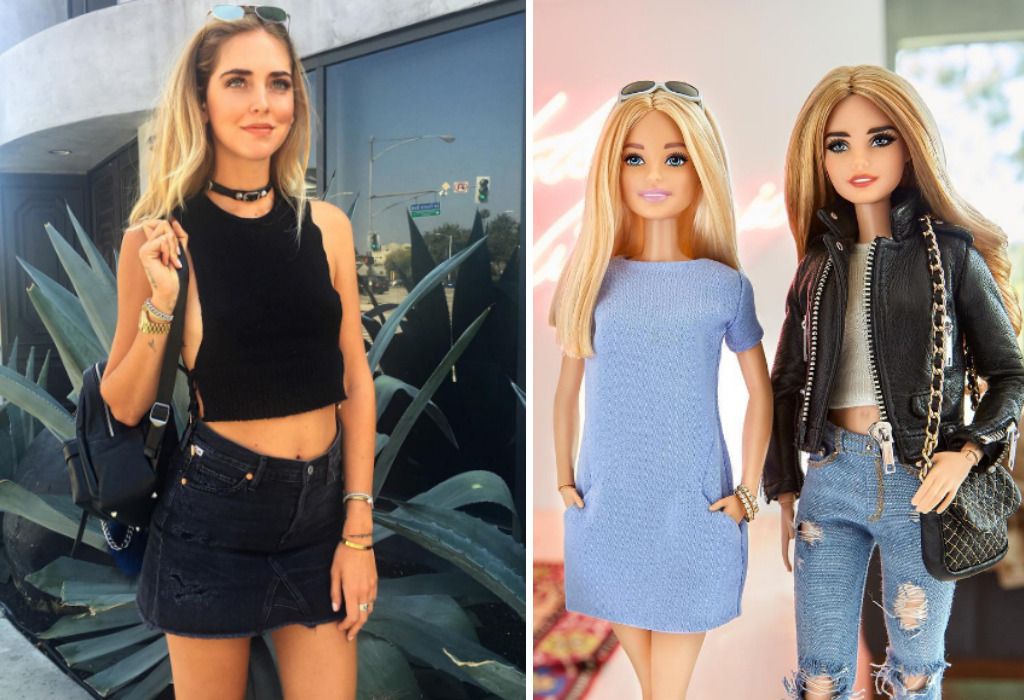 Chiara Ferragni alias barbie od Matela, zdroj: yahoo.com
Jej úspech je stále na vzostupe a Chiara sa teší novým a novým fanúšikom. Dokazuje to aj šialenstvo, ktoré vládne počas milánskeho týždňa módy pri príchode Chiarri na rôzne módne prehliadky. Množstvo nadšencov, číhajúcich fotografov a radostné pokriky sú pri jej príchode najmarkantnejšie, taký úspech nemá ani ďalšia slávna talianska módna ikona Anna Dello Russo (Vogue Italia). Fotografie z Milan Fashion Weeku, ktoré som nafotila to len dokumentujú.
Chiara Ferragni a jej príchod a odchod z módnej show Versace, Milan Fashion Week – september 2017, jar/leto 2018
Videá, ktoré som natočila počas Milan Fashion Weeku pri príchode Chiarri na módne show, si môžete pozrieť na mojom youtube kanáli mya mirell, instagrame mya_mirell, kde pravidelne pridávam novinky z Milan Fashion Weekov, alebo nájdete aj na facebook stránke s názvom Mya Mirell Fashionista. Jedno z videí – Chiara Ferragni príchod na prehliadku značky Versace – Milan Fashion Week, jar/leto 2018, september 2017, si môžete pozrieť tu: https://www.youtube.com/watch?v=iBFUki_0U6Y&t=1s
Chiara je street style hviezdou, módnou ikonou, objavuje sa vždy na popredných portáloch a módnych stránkach pojednávajúcich o najlepších outfitoch z ulíc počas týždnov módy, ktorých sa zúčastňuje nielen v Miláne. Je pozývaná do rôznych show, stala sa žiadanou a uznávanou celebritou a je vyhľadávaná módnymi magazínmi. Fotografie jej zaujímavých outfitov z týždňa módy v Miláne, ktoré som zachytila nájdete aj na facebook stránke blogu myamirell.eu s názvom Mya Mirell Fashionista.
Chiara Ferragni a nadšenie fanúšikov a fotografov – prehliadka značky Prada, v outfite Prada – Milan Fashion Week, september 2017, vtedy v treťom mesiaci tehotenstva. Video celej situácie si môžete pozrieť tu: https://www.youtube.com/watch?v=Hj_lTMh9V8M&t=16s
DOLCE VITA – ROZPRÁVKA SKUTOČNOSŤOU
V súčasnosti je Chiara Ferragni tvárou rôznych módnych značiek, neustále cestuje, dokonca podľa jej vlastného monitorovania života, ktorý hrdo ukazuje svetu na instagrame sa dá povedať, že viac ako svetové modelky. V roku 2010 bola pozvaná ako hosť do relácie Mtv Trl Awards, aby predviedla svoju prvú líniu topánok. V decembri 2011 bola označená magazínom Vogue ako blogger of the moment. Má vlastnú kolekciu topánok s názvom Chiara Ferragni shoe collection, ktorú uviedla na trh v roku 2012 a na nedávnom septembrovom Milan Fashion Weeku (09/2017), som bola účastná otváraniu obchodu a uvedeniu jej novej kolekcie topánok a ruksakov na trh.
Kolekcia Chiara Ferragni, zdroj: estiloesactitud cl
V roku 2013 vydala e-book s názvom The BlondeSalad. Je ambasádorkou spoločnosti Pantene, predvádzala aj pre značku Guess, spolupodielala sa pri návrhoch projektov pre značky Christian Dior, Louis Vuitton, Max Mara, Chanel, Tommy Hilfiger a iných. V rebríčku časopisu Forbes sa v roku 2015 objavilo v tridsiatke aj jej meno, dostala taktiež titul nauznávanejší módny influencer a prednášala aj na Harvarde. Stala sa modelom na Harvard Business School, na ktorom sa preukazoval úspech a práca influencera, ktorého živí móda, písanie a fotografovanie. V tom roku vraj dosiahol jej zárobok viac ako 10 miliónov dolárov. V súčasnosti má 12 miliónov sledovateľov na instagrame a jej popularita stále rastie najmä vďaka spoločným fotografiám a videám s partnerom, kde páru dnešným dňom pribudol aj spoločný plod lásky, syn Leone. S partnerom Fedezom začala Chiara na sociálnych sieťach aj dosť pritvrdzovať a uverejňovať čoraz odvážnejšie fotografie, ktoré boli následne zdielané aj módnymi magazínmi. Či to je ale ešte v medziach únosnosti morálky a kam môže táto influencerka doviesť týmto mládež, čo ju nadšene sleduje, je otázne.
Pre tých, ktorí sa o nej dozvedeli len nedávno, ponúkam fotogalériu, kde je vidno, akou zmenou táto útla ale vysoká Talianka prešla. Zmena sa týkala celej jej vizáže od farby vlasov, vyplnenia výrazne pochudnutých prepadnutých líc na guľaté jabĺčka, dnes dokonalú milú tváričku, vhodný prirodzený make-up a husté vždy pekne upravené vlasy. Na tomto videu je asi najviac vidno premenu vizáže slávnej blogerky k lepšiemu: https://www.youtube.com/watch?v=KXikymxj744
Niet sa čo čudovať, Chiara má dnes okolo seba vždy šikovné ručičky odborníkov na vzhľad a na postave si odkedy schuda potrpela. Dokonca si vyslúžila vlnu kritiky za jej ultra štíhlu postavu, ktorú si zachovávala aj počas tehotenstva. Rovnakou zmenou prešla aj jej sestra, ktorá posledný rok výrazne schudla a teraz ju dievčatá na instagrame zahlcujú otázkami na tento recept. Obe celebritné sestry a módne ikony sú príkladom, ako sa zo sna a rozprávky stane skutočný sladký život – la dolce vita.
Chiara Ferragni prešla od svojích začiatkov obrovskou zmenou vizáže, aj extrémne schudla a líniu si neustále drží.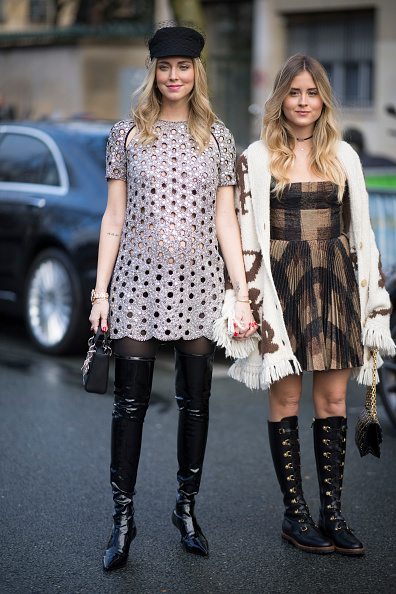 Rovnako sestra Valentina prešla značnou premenou krásy, sestry spolu dnes, zdroj: Gettyimages